Yes laminated plaques are popular?
Go ahead and do a search using Bing for laminated plaques. Find the image picture and look at all the samples of custom wall plaques and you will get the feeling every corner of the United States has a laminated plaque shop on it.
It's like the bar system they used to have in the Pennsyvania coal miner districts back in the day. They would have a bar on every corner along the way home from the mines and the men would stop by and have a few drinks.
If you build it they will come.
But how much do you really know about these companies. And what about the quality of work or in the case of the bar the quality of drinks they serve.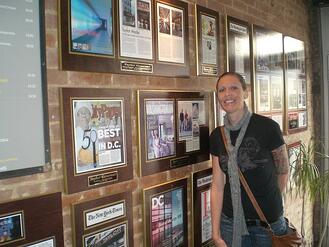 At our company In The News we recognize the competition we also try to separate ourselves and distinguish our product in a way where you can identify two important qualities.
Quality of Product
Service and more Service
We would like you to visit other websites that offer similar services and laminated plaques look for a testimonial page or a feedback page you probably won't find one.
Product
"When I first got the call from InTheNews about the plaque, I wasn't that interested. I told them they could send it and I would then decide if I wanted to keep it. I wasn't expecting much, however when it came in I was blown away. In The News does awesome work and I am very glad I told them to send my plaque. Everyone I have shown it to is impressed with how it looks and the quality."

Brian Royalty
Driver
Royalty Performance Motorsports
We hear the rumors and certainly are effected by the other guy. It muddies the water to receive calls from unhappy customers from experiences they have received from other "Plaque companies".
"I have just recieved my 3rd plaque form In The News. I highly recommend them, they do quaility work and delivery is very fast. I have seen other such companies work and nothing compares to In The News. They are my to go to people when I am IN The News."

Myrna Donato
Owner
Amber Unicorn Books
Personal Customer Service. While other companies offer anonymous service and remain hard-to-reach, we pride ourselves on delivering a positive and personal exchange with our customers. We promise to deliver a custom product that is tailored to meet your unique needs as you work one-on-one with your personal account representative.
"I have a few plaques from your company and have been very pleased with the whole experience from beginning to end. Starting with a friendly call offering your services, ending in a quick professional plaque delivered with no guarantee to purchase (though that hasn't happened). Great product, great staff and great idea!"

Elizabeth Arsov
Owner, Esthetician
Elizabeth's Head to Toe

Unconditional Guarantee. We want to make a product that you love, and we'll do whatever it takes to make you happy. In fact, our Unconditional Guarantee confirms this very principle: as a first time customer, we'll send your custom wall plaque free-of-charge, and won't send you the bill until you tell us you love it.
Made 100% In-houseOur completely custom plaques are manufactured from top to bottom here in our very own facilities in order to deliver a faster turnaround time than any other company. Your order goes directly from your account representative into the hands of the production team and then out the door to be delivered, never adding any additional processing and handling time.
You can learn more about In The News on our website www.inthenewsonline.com visit our Facebook page or give us a call 800-548-3993. You can get started on your design and custom layout today click on our button below.