First of all let's look at why laminated plaques are better than frames. And why laminating onto a plaque is far superior to preserving articles than a frame.
Why laminated plaques beat framing.
Framing an article whether in a magazine or newspaper will over time in some form or another begin to deteriorate.
Frames whether wood or glass are breakable. What I mean is once you receive your frame it can be damaged easily. If not properly placed on the wall it could fall and shatter the glass or break the four pieces of right angle wood that is holding the exposed article together.
Preserving articles normally is not a frame store specialty. Frame stores are great at taking expensive prints and paintings which are created and designed on different material than what a magazine or newspaper are made out of. Most frame stores and shops are not equipped with the right experience to handle the type of material magazines and newspapers present.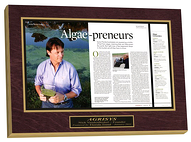 Now let's look at the alternative to preserving articles by using laminated plaques from In The News. We specialize in mounting and laminating magazine and newspaper articles for businesses, sports figures, publishers, restaurants, hobbyists, and families from all over the United States. We offer a way for those featured in a publication to make a lasting impression by preserving and displaying their success. You've probably seen our wall displays on some of the best business walls in the country.
Laminated Plaques from In The News
Product/Quality - Every plaque is handcrafted by our designers using the industries latest state-of-the-art equipment. We'll mount the original article to a ¾ inch wood base, which is then hand-stained, beveled, and set with trim according to your preferences. To secure against natural deterioration and wear, the article is laminated and heat-sealed to the wood, producing a semi-gloss finish.

Durability - By using a wood base and laminating the article with a heat press format you get the ability to be able to move your piece without the worry of breaking the glass or having the frame itself come apart. Our plaques are hearty and durable and are great for tradeshows, events, office entranceway's and can be easily maintained by wiping them down and dusting with a dry cloth.

Experience - We've been professionally creating custom laminated plaques since 1987, so we've had over 25 years to perfect our product and our methods. And it's not just our company with the know-how – over half of our employees have been with our company for over 10 years, so you can be sure you're getting the best service. When it comes to preserving your good press and achievements, nobody does it better than us.
If you have been featured in a publication newspaper or magazine and are looking to display your newsworthy accomplishment we ask you to try our service as an alternative way to preserve articles. A laminated plaque is the proper way to mount and display your good press.
You can visit our website www.inthenewsonline.com or call @ 800-548-3993
Check out our facebook page for some great customer acknowledgments.