Social media sites have become a great outlet for our company allowing us to engage with our customer base more and see our magazine frames come to life in real time.
At In The News Inc our magazine frames are designed and manufactured in house we do not outsource any part of our business. Magazine frames are custom made and designed for your specific needs and wants.
We would love for you to visit our social sites and get to know us better for when you are In The News we want to know about it.
Gather as much information as you can about our business, company, and staff we are more than happy to share our expertise in the industry.
Ask us a question about your article here (size,color,engraving)
Here are two examples of our product looking good on some very popular social sites. We thank our customers for sharing.
Facebook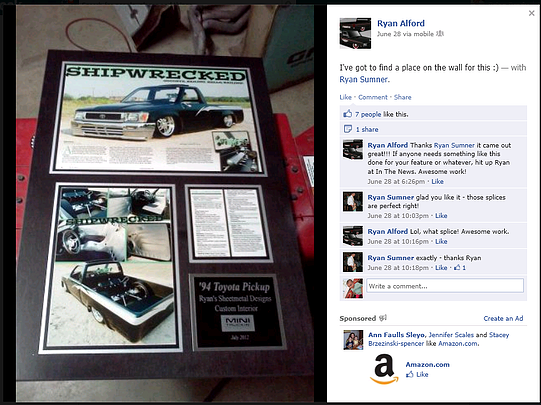 Ryan Alford featured in Mini Trukin' his 1994 Toyota pickup. Mini Truckin a Source Interlink publication. (photo above)
Twitter
Jennifer Daugherty with The Remi Group from North Carolina featured in DotMedBusinessNews. (photo above)
Were you featured on the cover of a magazine, have an article published, or mentioned in a write-up? Being spotlighted in a magazine, whether it's a local zine or a national publication, is an exciting accomplishment and definitely something to talk about. Be sure to save and display that good press! Ready to get started on your magazine frames?
If you would like a (free) digital preview of your article and what it would look like on one of our magazine frames you can visit our website www.inthenewsonline.com or get started and click below.