Featured articles using magazine frames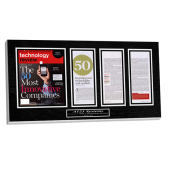 Imagine you, your family or your company has been featured in a magazine article talking about its latest achievements. You would like to have your current family members, friends and or potential employees to be able look at the article several years to come to see what you have achieved. Several options exist that you can turn to including the normal photo and document frames made from plastic or wood. Not a bad idea, but a better idea exists. It is the use of custom made magazine frames.
Plaques for preservation
A plaque refers to a decorative wall display that is used to hold a document that commemorates an event or a unique item or person. Plaques are not limited to hold awards and certificates only, they can also be used for features in newspaper and magazine publications.
This has been put to use by In The News which is a company providing high quality preservation of those articles that mean a lot to you.
Benefits of using plaques for preservation of articles
The preserved article will show what achievements you, your family, or company has had before. This will escalate your image because people will realize that you have done your best and have been recognized for that. People tend to make decisions according to reputation.
When employees see what the company has achieved in the past, they will work towards surpassing the level thus this acts as a yardstick that can be used to measure current performance. They will be motivated to work harder to pass that mark. The employees or individual will also be proud of their achievements so far.
The use of magazine frames helps you preserve your article in the natural quality. Minus high quality framing, the articles usually begin to deteriorate due to effect of moisture and dust. The plaques are also designed according to your preferences thus suit the room you are going to display it. You can specify the material to be used, the design and color of the frame.
The plaques are made by heat sealing a heat - pressed laminated magazine article to a wood base. This makes the finished plaque durable and easy to move around with. You can carry your plaque to shows and exhibitions or family outings to show your achievements.
Plaques are easy to maintain as they don't need expensive detergents to clean.
At In the News, we have a professional team that has experience of over 25years preserving magazine articles and through those years we have honed our skills and are thus able to give the best services. We have as clients people who have featured in various publications. When you are featured in an article, we offer you this service at a sensible price and create your plaque according to your specifications. After we have full information, you will have a free preview of your plaque within 24 hours.
You can visit our website www.inthenewsonline.com or call 800-548-3993 and we can assist you with your magazine frames.