Having a hard time closing a client? Have you been wondering how to get an advantage over you competition? Do you wish there was a way to promote your success without being too aggressive and abnoxoious?
Maybe you are a school looking to land a top notch scholar and recruit to attend your shcool you might need something to help you land the next Bill Gates. But what?
Isaac Jamese Communications Manager, Marketing and University Relations Southern Adventist University which is ranked in US News World Report as one of "THE TOP TIER SOUTHERN COMPREHENSIVE" college said this about our magazine frames.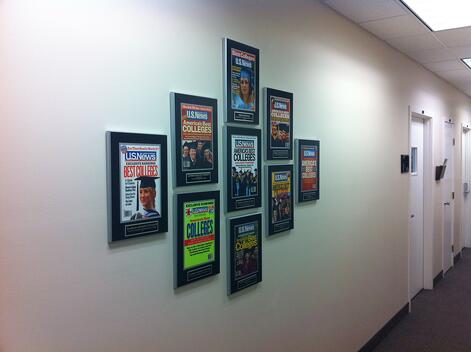 "On a whim I decided to take and share a photo of the wall where we keep the plaques. Parents and students will stop and look at them during visits. We even see people posing and taking photos." :)
Have a good day!
How about taking your news accomplishments and articles and creating magazine frames. Magazine frames are great conversation starters and can really make a differnence when it comes to closing or making a deal.
Magazine frames are great whether you are a local restuarant, small buisness,doctors office, or start up company. A magazine frame can break the ice to a potential client or keep existing cusotmers feeling secure they are working with a reputable company.
A wall display is a simple way to inform your clients that your company has been recognized for its success. Remind your customers that your business is thriving, and remind your competitors that you're a force to be reckoned with.
Were you featured on the cover of a magazine, have an article published, or mentioned in a write-up? Being spotlighted in a magazine, whether it's a local zine or a national publication, is an exciting accomplishment and definitely something to talk about. Be sure to save and display that good press! Ready to get started on your display?
If you have articles and have been looking for a new way to attract business than investing in creating magazine frames with In The News is your answer.
While other companies offer anonymous service and remain hard-to-reach, we pride ourselves on delivering a positive and personal exchange with our customers. We promise to deliver a custom product that is tailored to meet your unique needs as you work one-on-one with your personal account representative.
You can visit our website www.inthenewsonline.com to order you plaque today. You can also contact us @ 800-548-3993 to go over any specific questions.