Newspaper frames displayed can act as a recognition from an unbiased, third party will help gain the trust & respect of your clients, as well as confirm expertise in your field. A wall plaque that thoughtfully reports acknowledgment can help earn points with current & potential clients when showcased in a lobby, waiting room, or office.
Newspaper frames can create a positive atmosphere and help a company get the word out to visitors, vendors, and even walk up traffic. A custom newspaper frame of your recent accomplishments placed properly in an entranceway, office, anywhere you determine to be an important gather area will establish credibility.
Let's look at a great customer of ours and how they strategically place their awards and achievements with our custom newspaper frames as an example.
Health Advocate, Inc., the nation's leading health care advocacy and assistance company, serves millions of Americans nationwide through its more than 7,500 client relationships.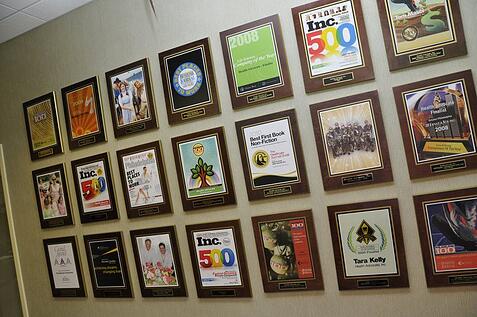 Now let's be clear a company as large and successful as Health Advocate is not using our service to hang the awards and recognitions they receive just for decoration.
No they are using our service to:
Establish credibility

Reinforce a professional image

Motivate employees
It's important for them to maintain an edge on their competition, inspire their workforce to strive for success and help promote their business.
Were you featured on the front page of the newspaper? Have you been published in a business journal? Were you spotlighted in a community newsletter? Newsflash! If you've been featured in a newspaper article, it means you are worth talking about and that's a great success! Preserve and display your good press with a custom wall plaque and keep people talking about you. Ready to get started on your display?
In The News Inc is your added value tool we create custom wall displays for companies and indviduals across the country you can visit our website @ www.inthenewsonline.com or contact us by phone @ 800-548-3993