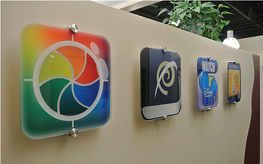 "It's the economy, stupid" is a slight variation of the phrase "The economy, stupid" which James Carville had coined as a campaign strategist of Bill Clinton's successful 1992 presidential campaign against sitting president George H. W. Bush.
It's clear today visual marketing is the new "It" and everyone wants to "See" what they are going to getin relation to a product. Recently I read a twitter post that Meme's where the new preferred interoffice way to communicate.
If you haven't done a Infographic for your company yet you will. (side note it's a lot harder than it looks).
This brings us to the App world and more specifically your App. If you don't have an App I bet you have a phone that has an App you use more often than any other. Whether you are a company trying to stay on top of the next trend or just enjoying one of the millions and millions of games like Farmville or Angry Birds.
(another side note) The next trend by the way is setting your website up for mobile useage.
Maybe you decide you have the next great idea well guess what you might want to consider creating and App for that too!!
Whether you are Dominos developing an online ordering app that you can dowload and scann from a billboard, check out the article in AdWeek.
Or you want people to download your App from iTunes so they can "Hold On", a game as you guessed it let's you time yourself for as long as you can hold down a button. Crazy? read the article here and 9 other crazy Apps you can scratch your head about later.
How do you stand out? Be creative. Yes. It's visual stupid.
Here is where we come in our business helps you promote your App. From App developers, clients, and retailers our App Icon Signs will let you stand out from a crowd of millions.
Our App Icon Signs will create the buzz and generate the word of mouth and exposure you are looking for. And they look awesome. With our added value QR codes we can make your App Icon come alive and generate more business.
At In The News Inc we have been creating wall displays for ever and now we want to introduce our new product our App Icon Signs. We can take your App artwork and transform it into a beautiful display to place strategically to maximize your needs and celebrate your Apps success.
Wall displays and desktop signs are the best way to display your App to the world.
Sound easy it is. Click on our button below and get started creating an app icon sign great for anywhere you want your app to be seen and downloaded.