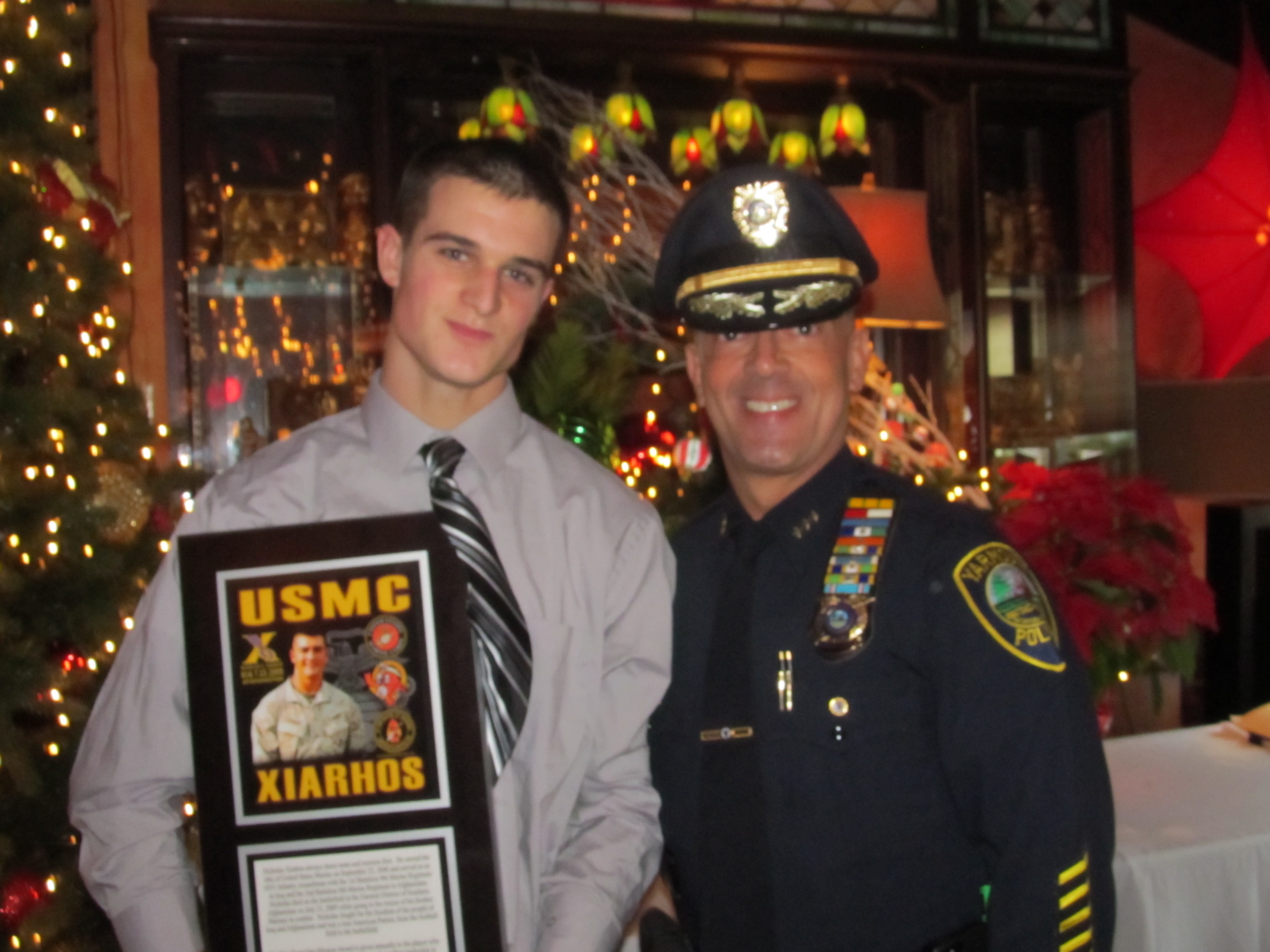 Personalized wall plaques are a tried and true standard in the the business community. They stand for prosperous plans and communicate a thanks to individual and teams who accomplish goals.
Sometimes a personalized wall plaque becomes a gesture of thanks to an individual showing longevity with a company or even a certain amount of productive time spent at one place.
Personalized wall plaques communicate in a way people communicate with each other.
Sometimes it gets even more personal when you have other factors which an award or recognition is presented and displayed.
Let's look at one wall plaque we are very proud to be a part of this program. The One Team One Mission Award recognizes a stand-out high school athlete/student every year while also honoring the life/sacrifice of fallen USMC Cpl Nicholas George Xiarhos. (see this years winner above with the personalized wall plaque)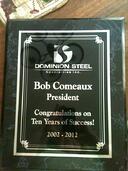 What about recognizing a successful business take a look at the persoalized wall plaque we did for Dominion Steel President Bob Comeaux presented to him from his staff for 10 successful years of business.
This general way of rewarding and saying thanks to your boss or employees is a great way to build credibility, reinforce your professional image, and motivate your employees.
There is a reason you Google personalized wall plaques and thousands of companies come up because they are one of the best and most professional ways of saying thanks and rewarding positive achievements in business and in life.
Did you or your business win a prestigious award or make a Top List? Need to honor or recognize a great employee? Did your child win first place in a competition? Recognize and appreciate the people in your personal and business life with a display piece they will be proud to show off.
Ready to get started on your display?
Why Choose
In The News
?
Over 25 Years of Experience

We've been professionally creating custom laminated plaques since 1987, so we've had over 25 years to perfect our product and our methods. And it's not just our company with the know-how – over half of our employees have been with our company for over 10 years, so you can be sure you're getting the best service. When it comes to preserving your good press and achievements, nobody does it better than us.



Personal Customer Service

While other companies offer anonymous service and remain hard-to-reach, we pride ourselves on delivering a positive and personal exchange with our customers. We promise to deliver a custom product that is tailored to meet your unique needs as you work one-on-one with your personal account representative.Click on our button below to start on getting or receiving a personalized wall plaque.

You can visit our website @ www.inthenewsonline.comor call @ 800-548-3993 ext 3002