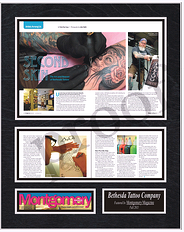 Tattoo Shops across the country look for a way to stay ahead. For years word of mouth and recognition came over years of hard work and dedication.
Trips to trade shows and conventions where the norm.
Recently the explosion of tattooing and the coverage it has garnered has become something of a phenomenon. The tattoo industry seems to be generating more business and has been unaffected by the slow economy.
Tattoo magazines such as Inked Magazine, Skin & Ink, Skin Art, Tattoo, Tattoo Revue, Savage and many more have become huge subscription based revenue streams and great places to be seen.
Being featured in a tattoo magazine is a way to capitalize on great press by framing those articles. Framed magazines in your shop can give you a leg up on competition and solidify your stature in the industry.
Also mainstream media has also picked up on the tattoo industry and began covering then with feature stories as well. Take our featured photo from Montgomery Magazine and the article on Bethesda Tattoo Company.
Bethesda Tattoo Company located in Maryland this tattoo company since 2005 has been consistently voted one of the best studios in DC/MD area by their clients.. DC City Paper gave them "best place to get tattooed" in 2010 readers poll and have won many awards since.
Specializing in tattooing with a shop that has over 40 years of experience each station is enclosed ensuring privacy and a intimate experience.
When the tattoo shop became featured in a predominant magazine they went with our service to provide them with a professional framed magazine plaque.
At In The News Inc we offer a way for those featured in a publication to make a lasting impression by preserving and displaying their success. You've probably seen our wall displays on some of the best business walls in the country.
Were you featured on the cover of a magazine, have an article published, or mentioned in a write-up? Being spotlighted in a magazine, whether it's a local zine or a national publication, is an exciting accomplishment and definitely something to talk about. Be sure to save and display that good press! Ready to get started on your display?
Not sure what your framed article would look like no problem you can view your actual plaque by submitting your articles for a free digital preview. Click our button below to start:
You can visit our website @ www.inthenewsonline.com or give s us a call 800-548-3993