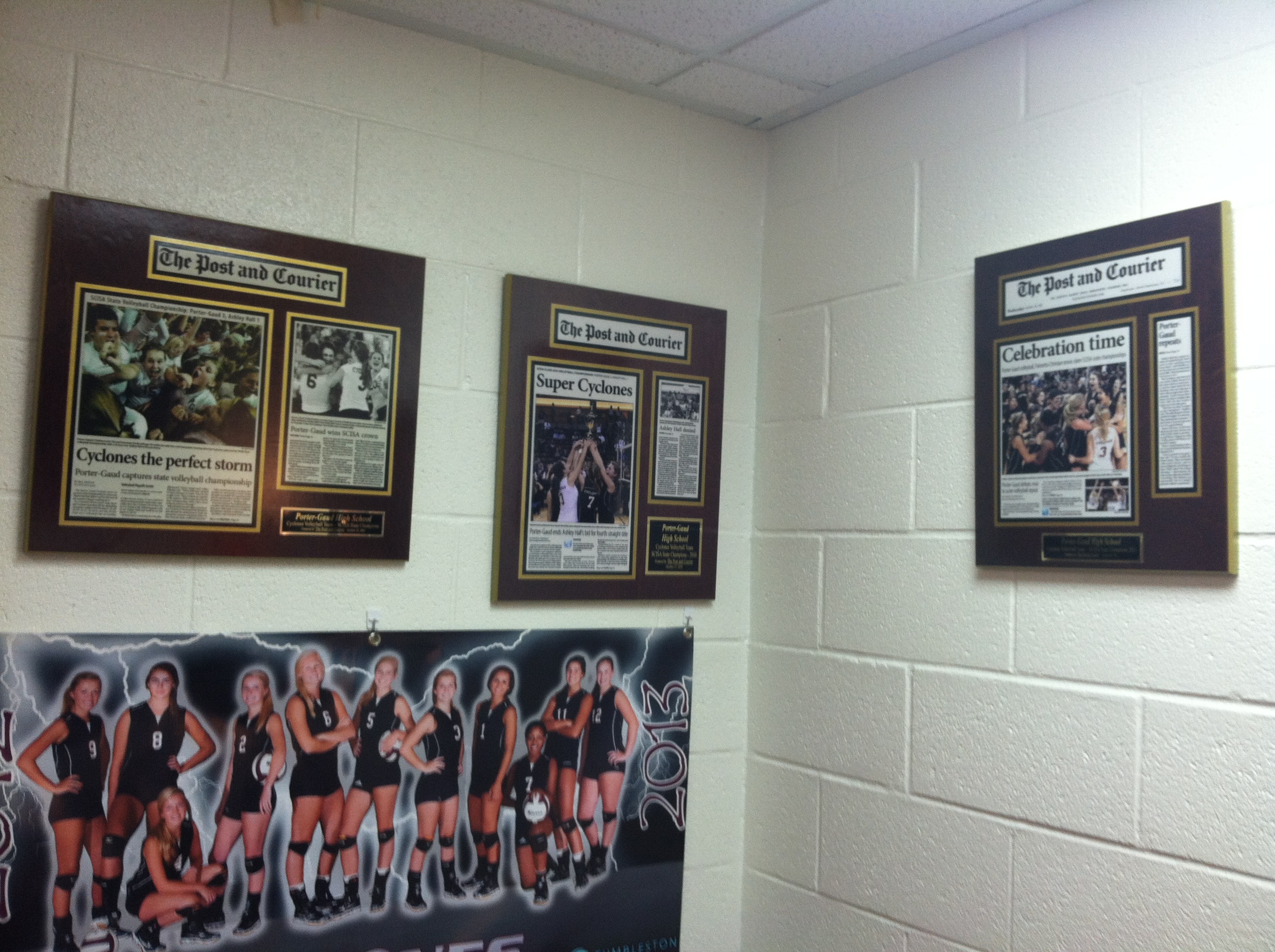 The recent success of Cyclones Volleyball team from Porter-Gaud High School lead to the team being featured in the South Carolina Post and Courier.
The Cyclones have become used to all the attention capturing their third straight AAA State Championship after their successful run in the state tournament including their final victory over cross town rival Ashley Hall.
We have honored this great time and captured their moment with a newspaper display frame.
At In The News we specialize in mounting and laminating magazine and newspaper articles for businesses, sports figures, publishers, restaurants, hobbyists, and families from all over the United States. We offer a way for those featured in a publication to make a lasting impression by preserving and displaying their success.
It has been a joy to see the success of the Cyclones as we have been able to watch them turn themselves into a powerhouse program preserving the last three championship articles that where featured in the Post and Courier (see photo)
There are so many High School sports programs like the Cyclones that have success. Anytime a local team can have success it really brings the whole community together. There is nothing quite like playing on a team with your best friends. Families become close from all the traveling and charity drives for summer trips and camps. So when a newspaper article runs in the paper you better believe you are going to take the time and have it framed.
Let In The News Inc take care of all your newspaper display frames.
Were you featured on the front page of the newspaper? Have you been published in a business journal? Were you spotlighted in a community newsletter? Newsflash! If you've been featured in a newspaper article, it means you are worth talking about and that's a great success! Preserve and display your good press with a custom wall plaque and keep people talking about you. Ready to get started on your display?
If you want to see what your article would look like then you can get a free digital preview today! Click our button below to start.
You can visit our website www.inthenewsonline.com and learn more about In The News Inc.