Believe me this post is in no way trying to poke fun at anyone in the car industry.
Well maybe a little, but hey it's all in good fun.
The 2012 SEMA Auto Show is under way in Las Vegas Nevada.
The SEMA Show is the premier automotive specialty products trade event in the world and plays host to over 1,800 accessorized and customized four wheel and two wheel vehicles at the lovely Las Vegas Convention Center.
From October 30th to November 2nd some 2,000 new products will be revealed.
SEMA Show exhibitors the industry experts will have the hottest rides displayed and the winners will appear in their booths.
Why then when we see photos (see top) like these do we get our tails in a wad. The truck is tricked out, bad ass material but the show boards of the specs and magazine feature lying on the ground is not.
The time that is spent producing these top of the line, state of the art vehicles is astonishing. Whether you are in the car business or enthusiasts the rides that appear at car shows and end up on the covers of magazines are just plain sick.
Hundreds of thousands of dollars are poured into these vehicles and every effort is made to be at the top of your game in the industry. When you are at the top on the industry publishers come a knockin' and features in car magazines come with the territory.
Are you waiting for the punch line here it is. If you are like our friend above you need us. In The News can produce a high quality custom magazine framed article board to display that will surely compliment your ride better than throwing a magazine on the ground.
In The News with hard work and a bunch of car loving salesmen have become the leaders in the industry for 25 years we have built the reputation as the "Plaque Guys". If you are featured in a car, truck, or bike magazine we are your best place to go for framed article plaques.
We have built some great re pore with some of the top industry publishers in the US including Source Interlink.
Every framed article plaque is handcrafted by our designers using the industries latest state-of-the-art equipment.
We'll mount the original article to a ¾ inch wood base, which is then hand-stained, beveled, and set with trim according to your preferences.
To secure against natural deterioration and wear, the article is laminated and heat-sealed to the wood, producing a semi-gloss finish.
Each plaque includes a personalized engraved plate that details your achievement in gold or silver lettering with a black overlay. (ask about our stands)

The precise workmanship of our skilled team is evident in each and every finished piece. But don't take our word for it, hear what others have to say about our product.
Great for trade shows, events, shops and even your home a custom framed article plaque of your life's work sure beats laminating it and stuffing it into a photo album.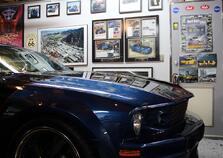 Why not do something more with your feature? By professionally preserving your publicity, you'll have a keepsake that is guaranteed to stay in like-new condition for years to come.
More importantly, you'll have the means to showcase your article properly, which will prove to be a valuable asset for your company. Use your plaque to brag about your ride with tact.
You'll notice that a well-placed wall plaque highlighting your media will speak to the success of your company and advertise on your behalf.
Let In The News create your next display piece.
Was your car, truck, or motorcycle featured in an automotive magazine? We receive every automotive magazine in circulation and often create plaques for trade shows and showrooms, or to commemorate your ride's spotlight for your office or home! Ready to get started on your display?
Visit our website www.inthenewsonline.com or give us a call 800-548-3993.