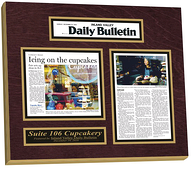 Who does not like to receive a compliment? Whether its from your peers, family and friends its always nice and feels good to get a nice word said about the job or person you are.
But what happens when the nice word becomes a printed newspaper article. Its like a step up to the big leagues. Sure it was nice to have Mom or Dad or cousin Phil say you where doing a heck of a job but now someone has wrote about it. What do you do then?
Laminating a newspaper article into a custom plaque might be just the right way to celebrate your recent accomplishment.
At In The News Inc we can help you create a wall display that can compliment your recent success.
Being successful in life has different meanings depending on who you talk to but almost everyone can agree if you get your name in the paper it is something to be proud of.
Let's take a look at someone we are excited about and we certainly are proud to have provided our service too.
Justin Estes, 24, of West Point, has built a greenhouse in his backyard out of bottles so they can be reused instead of being sent to landfills. His featured article ran in the Sun Herald newspaper out of Mississippi in the Sunday edition.
As the projects coordinator for City Hall, he oversees the city's recycling program so it seems right he would have such an extravagant yet environmentally friendly backyard. The greenhouse is made of wine bottles yes about 8 or 9 truckloads but also has pasta and pickle jars, Starbucks Frappuccino bottles and jelly jars too.
What a unique story it's the kind of story you would want to hang in your home. At In The News Inc it's exactly the kind of story that we love to proivde our custom plaque service
.
Whether you're like Justin Estes or a restaurant owner cataloging successful press. A proud parent whose child was featured in the neighborhood paper, we cater our wall displays to both businesses and individuals alike. We share in your excitement to commemorate family media and special mementos for personal keepsakes. After all, we all have something special we want to remember!
If you're in the news, we know it, and we make it our business to offer you our custom lamination service. We subscribe to over 6,000 publications including every major daily newspaper in America. In addition we receive nearly every magazine, business journal, and trade publication from every city, state, and region, covering a wide variety of subjects.
If you are looking to have an article framed we can certainly help. Click our button below to learn about our process and our guarantee. If you want to visit our website @ www.inthenewsonline.com to find out more about our company. We look forward to hearing about your stories and creating quality plaques to enjoy.