Being that we are a company who mounts and preserves newspaper articles into custom frames we right a lot of stories about newspaper articles. More importantly from time to time we write on this blog exactly how you or your business would go about taking the necessary steps to get media exposure and have an article written about you.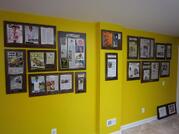 Today as I picked up the Tampa Bay Times I came across an incredible story of a mother giving birth along the side of a major highway. Now this is not the way we have described in the past the process one must go through to get an article done about them but it sure worked for Candace.
Candace Crossley of Tampa had their second child Catelyn born on the way to the hospital. Leaving their home with enough time to get to St Joseph's Hospital or so they thought Candace and her husband shortly realized they where not going to make it in time.
Pulling the car over on a major Tampa highway I 275 with her sister also in the car the family swung the door open and began to attempt to deliver this very special baby.
Shortly after they began Catelyn was born in the frantic and with 911 on the phone the family took the appropriate measures to secure the mother and baby and wait for help. The ambulance arrived and got the Mom and Baby to the hospital where both are doing fine.
You can read the entire story in the Tampa Bay Times. (article by Robyn Mitchell)
At In The News we read newspaper articles from across the country and provide a service for those individuals and companies who are featured. We also frame articles and plaque newspaper stories for special occasions like the story above.
While we specialize in mounting media articles, we are happy to preserve any piece of your professional or personal history. Whether it's a record of your success, or a treasured keepsake or memory - we'll tailor our wall displays to meet your unique needs.
School Diplomas

Birth / Marriage Certificates

Contracts / Documents / Letters

Wedding / Event Invitations

Custom

Recognition / Appreciation / Awards

Photographs / illustrations / Artwork

Sports

Memorabilia

Scorecards

Small Mementos

In The News has created special memories for thousands of families and those who have had their moments documented in the newspaper. Our framed articles provide a lasting image of events from births to championships to small business openings. Whatever the occasion providing our framing service throughout the United States has brought us joy and satisfaction we have provided a way for those featured to enjoy the moment forever.
To learn more about In The News you can visit our website @ www.inthenewsonline.com to see some great examples of our custom article plaques click on our button below.