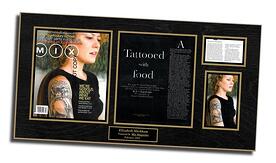 Do you like colors in your artwork? Are you old school traditional? How about shading? Or do you just always go black and white? Have I lost you yet?
If you are a lot like me than maybe you never understood the intricacies of getting work done. Maybe you have never walked into a shop but only read and looked at pictures in tattoo magazines.
A while back I went ahead and took a straw poll at our work. At In The News we employ about 70-80 full time employees. We are a sales and manufacturing company that frame magazine and newspaper articles into custom displays. Turns out about 60% of our employees have at lease 1 Tattoo.
Question? Are you going to go to just any Tattoo Shop to get something that will last forever? Maybe. But I can assure you most people will do some research. This research may start online it even may go to some chat rooms, take a turn through social media but generally it's always going to come down to visiting a place in person.
Tattoo Shops are constantly looking for an edge in the highly competitive world of tattooing. Whether it's learning a new style, new trick, master a craft, hire a direct competitor you can bet everyone is looking for a way to stay relevant.
That's why getting recognition in one of the many tattoo magazines and trade publications in the industry is such a coveted victory. What you do with that sort of pub is up to you.
What we suggest at In The New is to take your article and create a framed article plaque for your shop. This will immediately give you credibility and visual reminder to everyone that walks in your shop. A framed article plaque says "Hey" I am a real legit artist and my work or shop has been published because we are successful. Hang it up in the front of your shop or in your own personal booth either way it will surely give you the edge you need.
Were you featured on the cover of a magazine, have an article published, or mentioned in a write-up? Being spotlighted in a magazine, whether it's a local zine or a national publication, is an exciting accomplishment and definitely something to talk about. Be sure to save and display that good press! Ready to get started on your display?
Click our button to get started. We will locate your article and sen you a preview of your plaque free with no obligation.
You can visit our website @ www.inthenewsonline.com and learn more about our company and product. We have been creating frames for over 25 years. Also check out our checklist to make ordering a plaque easy.