How interesting would it be to talk to successful people all day long about their business?
Very Interesting!
Given the very nature of our business, framing magazine articles for display is it possible that some of the success articles we frame start to rub off on us a little.
We sure hope it does!
At In The News Inc we subscribe to over 6,000 newspaper and magazine publications. Imagine your home and the number of subscriptions you have now imagine having a subscription to every publication you would want to read, how interesting and cool would that be? It's like for the past 20+ years we have had access to our very own in-house information center.
Every day our job is to come into work and read the latest and greatest this country has to offer. By the way, today is "Election Day" I might get a little patriotic in this post.
So the opportunity to gain knowledge of specific industries, develop relationships with cutting edge companies and new start ups, or framing articles for Mom and Pop shops and local community movers and shakers is the beez kneez. At least that's what we think.
Let's take a closer look at the scope of contacts and customers we come across on a daily basis. The comparison might give you an idea and make you say something like, "Hey I didn't know they could make a frame out of my article."
Painted Hills Natural Beef a company located in Fossil Oregon was originated when 7 ranching families decided to get together and change the way beef was being distributed to restaurants and grocery stores. The company produces natural beef and eliminates the inconsistency some other companies experience while trying to deliver beef to us.
The company had a feature in Livestock Market Digest and we where able to take the magazine cover and article and create this companies second framed magazine article they can proudly hang on their walls. Not to mention a crash course education in how beef is handled throughout the United States.
Kori Cioca was listed in Newsweeks 150 Most Fearless Women in the World. This article was also released on it's sister website the Daily Beast. Cioca is currently involved as the lead plaintiff in Cioca v. Rumsfeld, a landmark class-action lawsuit alleging the military's repeated failures to take action in rape cases created a culture where sexual violence against women was tolerated.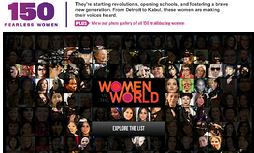 The list of women in the yearly Newsweek special are all truely amazing women. If you have an opportunity to read some of the nominees stories please do so with our links and photo linked to the articles.
Both articles truly define a large and wide spectrum of people and publications we deal with on a daily basis. The great part about being involved with our company is most of the custom article plaques we create are positive, uplifting stories that might involve millions of people or just a small section of a community, either way the quality of the product matches the success of the article.
We offer a way for those featured in a publication to make a lasting impression by preserving and displaying their success. You've probably seen our wall displays on some of the best business walls in the country.
Were you featured on the cover of a magazine, have an article published, or mentioned in a write-up? Being spotlighted in a magazine, whether it's a local zine or a national publication, is an exciting accomplishment and definitely something to talk about. Be sure to save and display that good press! Ready to get started on your display?
If you want to learn more or to see what your feature would look like on a framed article plaque then click our digital preview button below to get started.
Not sure how it all works need more information visit our website www.inthenewsonline.com or download our checklist on how to prepare and handle a custom wall display.