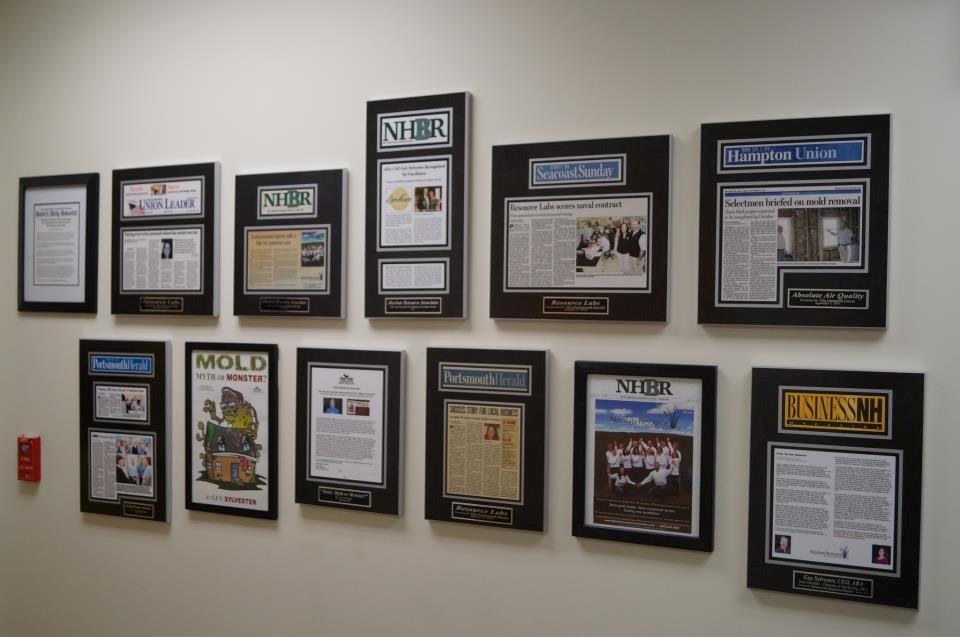 When you do something for a long time you tend to get immune to the process. In some ways it almost becomes automatic especially when it comes to a product or service you provide. As a sales and manufacturing company you can't have one with out the other.
If you have a great product and a mediocre sales force you might not sell as much. If you have a great sales team with a sub par product eventually people will buy from someone else.
For us at In The News it's always been important that we have kept our teams together. What I mean is we do not outsource our product and we have our sales team and manufacturing team all under one roof. We think this brings about a continuity in the process and friendly competition which allows us to stay a little bit ahead of the competition.
Let's face it there are a lot of places who offer a service to frame magazine or newspaper articles. We think our product is top notch and we where reminded this with a photo sent to us recently from one of our repeat customers.
Before we get into the customer I want to share a famous quote which I think summarizes how we feel about our product.
"When you're a carpenter making a beautiful chest of drawers, you're not going to use a piece of plywood on the back, even though it faces the wall and nobody will ever see it. You'll know it's there, so you're going to use a beautiful piece of wood on the back. For you to sleep well at night, the aesthetic, the quality, has to be carried all the way through." Steve Jobs
Absolute Resource Associates helps companies and families with molding issues to come up with a comprehensive plan to repair the quality of air your employees and or family breath. Treating mold and other Certified Environmental services in New Hampshire the company has been recognized for their customer and quality of service in numerous magazines and newspapers.
To receive a photo to remind us that our product is on the walls of our customers and that first impressions mean everything we wanted to go through our process and how each product is custom made.
Every plaque is handcrafted by our designers using the industries latest state-of-the-art equipment. Here is the process each and every magazine and newspaper article goes through to create a custom framed article plaque.
We'll mount the original article to a ¾ inch wood base, which is then hand-stained, beveled, and set with trim according to your preferences.
To secure against natural deterioration and wear, the article is laminated and heat-sealed to the wood, producing a semi-gloss finish.
Each plaque includes a personalized engraved plate that details your achievement in gold or silver lettering with a black overlay.
The precise workmanship of our skilled team is evident in each and every finished piece.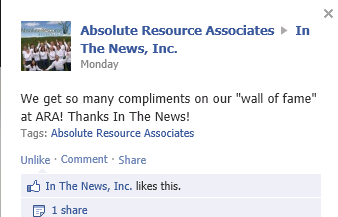 Our plaques are individually hand-stained and available in a variety of natural colors including ebony, mahogany, walnut, whitewash, and natural.
Accent and frame your article with colored trim available in black, gold, silver, red, orange, yellow, green, blue, and purple.
Our design team will customize the layout of your wall display to ensure maximum readability, cohesion, and visual appeal.
If you are looking for a reputable company who cares about it's product and can back up it's claim as the best article framing company then In The News is your answer.
We now offer a free digital preview of your actual article. This new process is fast and allows you to view your actual article and preview a layout in your email. To learn more click on our button below:
To learn more about what a custom article plaque can do for you please download our guide to media success. When you get in the news there are many ways to capitalize on your new found success. This guide will give you some tips on what to do next and not let your feature fade away.