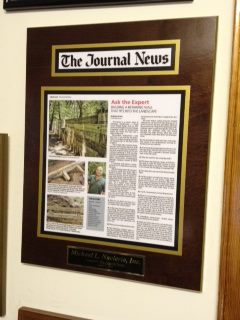 Recently I read through this article in Inc., "3 Real Reasons for Business Success". I was hoping in the list I would find newspaper plaques. But alas no such luck, what I did find where more clear messages that what a newspaper plaque can represent just might save a business.
Traveling to New York last month I happened to stroll down Manhattan, Time Square to be exact noticing all the neon lights and homage of eclectic people. Walking past all of the glitter and glam I started to window shop, mostly I was looking at storefronts of all the top restaurants and local stores. What did they all have in common? Almost all of them had some sort of wall article display or a newspaper plaque of their store or restaurant acknowledging some sort of recognition. Some of them even had our product in their windows which made me happy.
Essentially all the high end resturants and stores want you to know a few things about themselves. One is they want you to see who thinks they are worth the time and effort to even come into the store and buy something or go into the resturant and order something. Secondly they would like you to know they care about where they work and more importantly are proud of their business and want you and they want their employees to know about it.
You see having your articles mounted says a lot about who and what type of business you are. Like the Inc article points out if you can not understand or empathize with your customers they will not buy your product or you don't understand your employees people in your community will not want to work with you.
Don't think it too brash to hang up positive news articles wrote up in the paper or magazine. If it's good enough for New York than it's good enough for you. Whether it's a local write up or a prominent magazine publication spend the extra time and have your article framed.
If you don't care about your success no one else will. So the answer then becomes clear can a newspaper plaque save your business? Let's find out.
Were you featured on the front page of the newspaper? Have you been published in a business journal? Were you spotlighted in a community newsletter? Newsflash! If you've been featured in a newspaper article, it means you are worth talking about and that's a great success! Preserve and display your good press with a custom wall plaque and keep people talking about you. Ready to get started on your display?
Let's take it one step further have a recent article or even an older article and want to see what your article would look like on one of In The News custom article plaques? Get a free preview today!! Click on our button below to start your digital preview.
Still not sure about how to go about starting an order with our company you can visit our website at www.inthenewsonline.com or give us a call 800-548-3993. If you are unsure about the process go ahead and take our checklist guide below before you order.