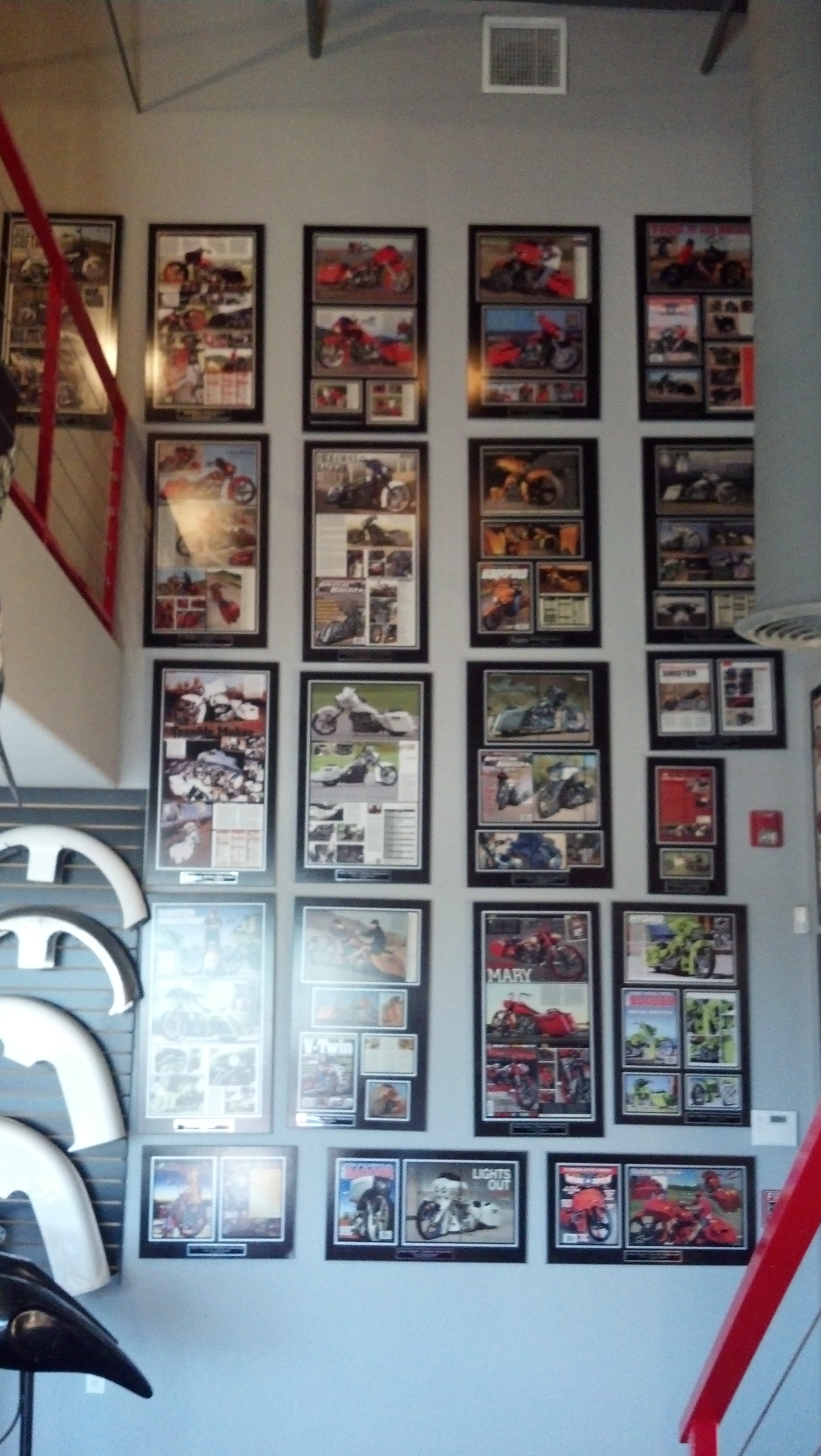 John Shope's Sinister Industries creates custom motorcycles. The work John does is legendary. Since 2006 we have had the privilege of producing over 80 custom framed article plaques of his work which has been featured in every major motorcycle magazine in the country.
We recently where sent a photo from John of his article plaques at his shop. We immediately sent it to our sales team and labeled it G.O.A.T Greatest of All Time for customer pictures.
Not only has John's custom creations turned into classic one of a kind motorcycles he is also an accomplished sculptor and has been in museums across the US. We came across John demonstrating and testing some of his parts and equipment and wanted to share this quick video with you. As John says he eats, sleeps, and drinks motorcycles and he shows here why he is one of the best:
We know there are a lot of John's out there doing there thing and creating awesome products that customers love. Whether it's custom motorcycles,drag racing, or auto body shops if you are featured in a magazine and want your articles preserved correctly In The News is the professional magazine frame company for you.
Utilizing the best of both the old and the new, we employ traditional paste-up artists to work along side state-of-the-art equipment. Our amazing team operates out of our 22,000 square foot office located in Tampa, Florida.
Our sales staff loves what they do why? They get to talk to people like Sinister Industries and things they have a passion for too. With over 25 years in the Automotive and Motorcycle Industry we have built a solid reputation as well. Take our guide to learn more about what a custom magazine frame can do for your shop or business.
Was your car, truck, or motorcycle featured in an automotive magazine? We receive every automotive magazine in circulation and often create plaques for trade shows and showrooms, or to commemorate your ride's spotlight for your office or home! Ready to get started on your display?
Have some interest want to see what your article or photo would look like on one of our custom framed plaques? Have a digital preview sent to your email by clicking on our Free Digital Preview button below. No obligation and it's free what are you waiting for.