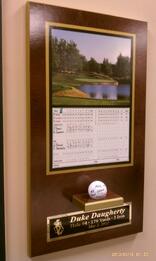 The white, pock-marked Titliest ball arcs through the air, the thwack of your 7 iron still resonating out past the teeing ground, over the finely manicured lawns, and toward the putting green. You place your hand to your brow to shield the sun as the white speck rockets forward, reaches the zenith of its travels.
It cuts through the calm morning sky, hits with the gentlest of thuds and careens toward the pin. For the briefest of moments, your cohorts behind you watch, silent, mouths agape. It can't be -- Not from this distance. The thwack from your golf swing still resonating through your body, you steady yourself. Watch with the rest of the gawkers.
The white speck slows its acceleration, decelerates, and drops perfectly for a hole in one. The golf Gods look down on you from above, your friends rush to pat you on the back, onlookers marvel at your accomplishment. You smile -- It's going to be a great day for golf.
Now, if we're describing you, this is something to be immensely proud of; according to
US Hole in One
, the odds of hitting a hole in one on a par 3 are... Wait for it... Wait for it. For an amateur golfer, the odds are approximately 12,500 to 1. It is an accomplishment like no other. Even when you take into account odds for a professional golfer -- which on that same par 3 course run around 2,500 to 1 -- it's one of the most impressive feats in all of golf.
So, how does one commemorate an experience such as this? You, as one of the select few out of 27 million golfers to have hit a hole in one this year: how does one memorialize this triumph for family and friends to see?
Memorialize Your Achievement for the World to See
In the News Online
provides a unique and lasting way in which to imprint this momentous occasion. For their hole in one plaque, the customer will simply:
Provide background information on their accomplishment (your name, where you were featured, contact information, etc.)
In the News will use your published article, or one you send directly to them, in order to create the hole in one plaque; they will contact you directly in order to discuss size, colors, specific engravings, and price
The intricate process of creating your plaque begins with your article -- or any other item which commemorates a success such as a scorecard -- being mounted onto a 3/4 inch wood base. From there, it's hand-stained, beveled, and set to the preferences you so desire.
The article is then laminated and heat-sealed to protect against natural deterioration over time. You'll also get a personalized engraved plate, as well, which will provide insight into your exploits in gold or silver lettering overlaid against a black background.
Check out an example plaque here and see how truly refined and spectacular it would look in your office.
Why Use In the News Online for Your Plaque?

Operating for more than 25 years, In the News has preserved some of the greatest moments in over 1,000,000 clients' lives. With a much ballyhooed line of customer service, their focus is on you. To hammer this point home, they offer a chance to inspect your hole in one plaque for 10 days -- There is absolutely no obligation to purchase. So, if it doesn't fit your needs or it's not something you like, simply return to sender. They'll cover return shipping; it's a win-win situation for the consumer.

In case you're still not convinced, here are a few customer testimonials to help you decide. To contact them directly, call 1-800-548-3993. You won't be disappointed!
If you are lucky enough to get a Hole In One get started on your custom plaque by clicking the button below you won't regret it.