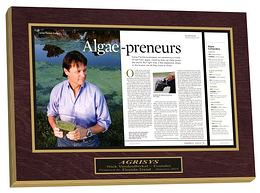 Publicity matters. Getting a well-respected writer or journalist to do a story about you, your business or your services can be more effective than advertising at promoting your company. People read it and believe it. It can enhance your brand and build trust in your services. It can jump start sales. And it can boost employee moral.

You work hard to get your company in the media, and it's not easy to do. It takes the right story at the right time coupled with a writer who gets it. And that doesn't even account for the time it takes to prepare for and conduct an interview and photo shoot.

But it's worth it, especially when you or your business is featured in a magazine. Magazines are the gold standard for any company looking for coverage. Magazines are higher quality, last longer and are seen by more people than TV, radio and even newspapers.

Yes, when it comes to publicity, magazines matter more than any other form. They've got legs.

But you can stretch their reach even further by putting your placement in magazine frames.

That's right: Put it in magazine frames.

Why let the good news about your company last for only a month or so? Make it last for as long as you need it to by framing it and displaying it in your office, in your home and on the reception desk at your building?

As powerful as a tool as publicity is for spreading the word about your company, there is no medium that everyone always sees. That means that some of your top clients might miss your story. So will prospective clients and business partners. That's why magazine frames matter all most as much as the original story.

If you put it in magazine frames--really nice, classy looking frames that connote pride and professionalism--and display it where the people you do business with are, they'll see it. They'll see it when they're waiting to meet with you. They'll see it when they're walking to your office. And they'll see it displayed proudly in one of the magazine frames in your office.

They'll also see it on the faces of your employees, who will take great pride in the story they see in magazine frames throughout your business.

And when they do see the magazine frames, they'll know that your company is doing something special, something newsworthy. It will act as a third party endorsement of you, your company and your services. And they'll feel better about doing business with you.

Yes, publicity matters, that's why you work so hard to get your company's name in print. But in today's world, there is no guarantee that everyone you need to see the story will see it. That is, unless you put the story in magazine frames and maximize the story's impact with the right audiences at the right times.

Magazine frames can give your publicity legs.
Were you featured on the cover of a magazine, have an article published, or mentioned in a write-up? Being spotlighted in a magazine, whether it's a local zine or a national publication, is an exciting accomplishment and definitely something to talk about. Be sure to save and display that good press! Ready to get started on your display?
Let In The News help you display your recent success with a magazine frame. To get started click this button.

You can visit our website @ www.inthenewsonline.com