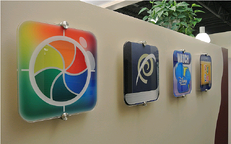 Thanks to the explosion of smartphones in today's society, more and more people are finding themselves downloading a variety of apps.
With literally thousands upon thousands of apps being developed and marketed every year, you might find it difficult to come up with a way that will give your app an advantage over the competition.
One of the most innovative methods created involves making actual desktop and wall signs for apps. When a company creates an app, it also creates an app logo.
That logo is the little thumbnail that shows up on a smartphone or tablet. Many app designers spend a great deal of time coming up with just the right app logo. After all, that app logo needs to stand out on a tablet or phone. In fact, some developers have reported receiving emails from individuals who admitted to purchasing an app, based solely on the visual logo of that app.

So, after you've made sure that you have an app logo that is distinctive and unique, what else can you do? Well, some companies are taking those app logos and turning them into desktop and wall app icon signs. These signs operate on two levels — first, they are actual works of art. Second, they also serve as constant reminders to whoever is displaying the sign in the home or office.

Now, in order to get your app icon signs to work as a marketing tool, you need to think outside the box. Since many people will download and purchase an app based on reviews found online, you might think about sending one of those sign apps to the person operating a website dealing with various apps. Since one of the things that most reviewers enjoy doing is showing the impact they have, it's a pretty good bet that the app icon sign will receive some free publicity from the reviewer.

Having app icon signs is also a terrific way to show investors in the product your appreciation. Granted, investors typically help out developers in order to make a profit, but it never hurts to spread some goodwill by giving the investors a concrete token of your appreciation.
In fact, there are crowdsourcing websites that offer potential investors a wide range of different products and services, in exchange for putting up some money towards development. By making one of the products a desktop sign or wall sign of the individual app, you give the investor a collectible item that can also be used to lock down his or her bragging rights.
In The News brings you the best way to display your App. Show off to the public which apps you have created with a wall display or destop sign. Click our button below to learn more about App signs.

In The News, Inc. was established in 1987 and is now the largest custom lamination and engraving company in the country that specializes in newspaper & magazine articles. In our 25 years of operation, we have created over 1 million custom, hand-stained wall plaques for our national consumer base of over 500,000 clients.
Visit our main website @ www.inthenewsonline.com contact 800-548-3993 ext. 3002 Brian Brady.