Maybe 2013 will be the year to diversify?
Have you ever heard of the saying, "Be in more than one place at a time?" I'm paraphrasing but is it me or does it seem like as a company in order to get in front of your customers you have to be in 100 places all at the same time.
But still with facebook, twitter, google+ and all of the similar sites alike you still need something to write about or create content but where do you get this information?
A timely magazine article on you or your business can be the kickstart you need to being in more than one place at a time. Taking your magazine article and turning it into a magazine article wall plaque starts to make more and more sense the longer you think about it.
Yes, article plaques the ones you hang on the wall in your office or place in the front of your company or store. It should become part of your checklist.
In reality a magazine article wall plaque is a form of advertising and many times it becomes the culmination of a project or a level of achievement and is a way to celebrate both.
Yes, you are going to immediately send out a press release and add it to your website. Then again you might turn the nice feature into a blog for you company website. if any photos get posted in the article you will post them to Facebook, Pinterest, and maybe Tumblr, or Instagram. You might even, aghast bye a few hard copies and take them home for family and friends.
You will do all this work to promote yourself so why not take the magazine article and create an framed article plaque.
A magazine article placed on your wall becomes your mouthpiece and stabilizes you for future business. Not only that it lets you charge ... I mean brag a little to your current customer base as they see it hanging right there for everyone to see.
And if you check out our website you can see it can be a number of things one gets turned into a frame. Article plaques are not limited to Restaurants, Top Executives, or Construction cmpanies. They are for everyone.
Here are a couple of examples of magazine articles turned into wall plaques you might never have thought of creating.
Mini Truckin' a magazine devoted to special trucks featuring some of the finest specification Trucks in the world. Ikandy is a 1989 Dodge D50 we took the magazine and Scott's feature page with photos and specifications of the vehicle and mounted this onto one of our magazine article wall plaques.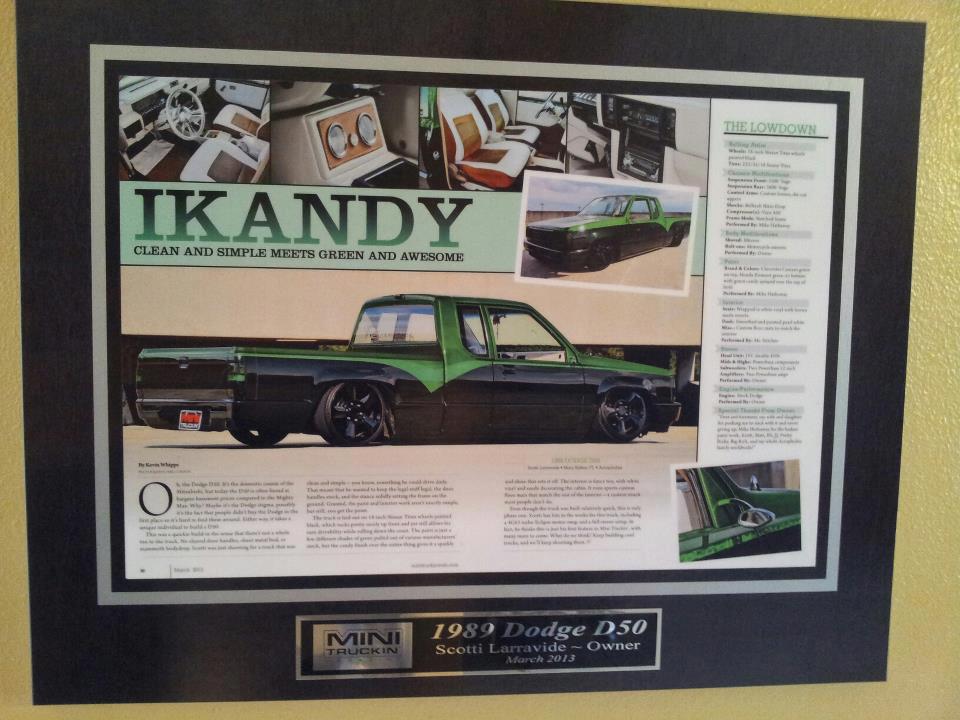 The second plaque was a feature in a local magazine called Lakes Region Bride Magazine. The feature was done on Sarah Maillet for her unique and new take on a traditional wedding dress and style. Adding her own style made this layout and plaque turn out great.
Magazine publications still offer a higher sense of notability. It's a prestigious event to be featured in a magazine publication and you must honor this with a framed article plaque. With over 6,000 publications in house and the ability to retrieve almost any article you can see we understand and know how to diversify.
Were you featured on the cover of a magazine, have an article published, or mentioned in a write-up? Being spotlighted in a magazine, whether it's a local zine or a national publication, is an exciting accomplishment and definitely something to talk about. Be sure to save and display that good press! Ready to get started on your display?
You can visit our website @ www.inthenewsonline.com or call 800-548-3993. We want to hear about your news accomplishments and help you preserve them forever.