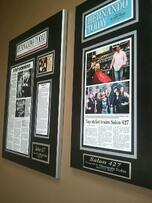 Time magazine did a story on your company, naming it an example of corporate community service. Mary Jones, who achieved the highest sales growth award of 2012 was honored at a dinner.
The following morning a color photo of Mary receiving her award appeared in your local paper. Channel 4 TV ran a clip showing a group of your employees filling boxes at the food bank. Charlie Bockman beat the competition and your company was awarded a lucrative city contract. And of course, there are the multiple website pieces read by vast, worldwide audiences.

Yes, any employee appreciates a heartfelt "Thank you for a job well-done!" Especially in the current business climate. And what business doesn't appreciate positive media notice?

You want to preserve these moments of recognition. Plaques. Not the kind that gathered dust in your grandfather's den. Or those that no one bothers to read although they fill your office wall.

Classy, custom-designed and framed, laminated office plaques that capture the moment of well-earned recognition. The old adage, "a picture is worth a thousand words" is especially apt. So first, take a look at what we're talking about.

Recognition. Appreciation. Commemoration. That's what you're after.

So it's great to learn that you'll benefit beyond the inherent pleasure of honoring others.
Motivation
Credibility
Reinforcement
Workspace
Portability
Success generates success. Positive media enhances your reputation and reinforces your professional image for current and prospective clients. Elegant showpiece custom-laminated and engraved, meaningful, office plaques instead of perfunctory workspace decoration. Portablility as trade shows and special events enhancements.

You're sold, but whose office plaques are going to meet your expectations for personal customer service, custom-design, quality as well as an unconditional guarantee?

In The News, Inc. has been satisfying their customers in the market for office plaques. For 25 years they've created over 1 million plaques for their national consumer base. More than 500,000 satisfied customers. Customers who become long-time clients.

An additional service-- searching the news for you-- sets In The News, Inc apart from competitors who provide standard office plaques. "If you're in the news, they'll know it" is the company's motto. The media source comes not only from your notification. Here's what's special. In the News, Inc. subscribes to more than 6,000 publications encompassing every major American daily newspapers, and almost every business journal, general interest as well as trade magazine.


In addition, your custom-laminated, designed and framed office plaques are created from the original media format.

In The News, Inc. is dedicated to meeting customer needs with a product guaranteed to make you proud. Always. But view their website and see for yourself.(www.Inthenewsonline.com)