There are times in life where you are truly proud of an accomplishment and you want to share it with the world around you. Of course, you don't always receive a trophy or have all the bright lights flashing around you during these accomplishments, but, on occasion, there is a specific newspaper article written about you.
More likely than not you have bought out all the local newspapers you could find and have since displayed them around your home and place of business. The problem with this is the newspapers don't hold up very well over time, as the paper is rather thin and inexpensive, which means it is going to tear quickly, especially with the amount of times you're showing the content off to people.
This is why you need to figure out a way to share the content with people, without actually damaging it.
Possibly the best way to preserve newspaper articles is through mounting. This digital process takes any newspaper article found online and turns it into a beautiful mount, allowing you to hang it and present it on your wall for all to see.
These features are great for a local business, so you can showcase the information to any client or customer who walks through the door. Clients want to know they are doing business with someone who is respected and highly throughout of in the area. And with these plaques, you can ensure they will always think this of your business, you just need to know where to go for the best way to preserve newspaper articles.
Best Way to Preserve Newspaper or Magazine Articles
When you have come to the site for the best way to preserve newspaper articles, you just need to let them now about the article and what it means to you. First off, you need to send the URL of the listed article, so they know where to find it.
This way, they can create a digital copy of the information and have it printed and set for display on the plaque. You can also customize the name plate and other information on the plaque, so no matter what you want on display or what you want it to say, the plaque is going to do just this. So, instead of looking for a way to mat your own newspaper and, in a few years, see how faded and dull it looks, you just need to go with this kind of service and you'll be good to go for years to come.

After the entire plaque is designed you receive a print of it through email, so you can sign off on the design. If you like it, you just approve the design, and if you have issues with it, you point out what you want corrected. Once you have done all of this, you'll receive the corrected, finished plaque in a few weeks in the mail.

You are sure to be excited when you receive the plaque in the mail after the several week production and shipping period. No matter what the event or what took place you are proud of, you are sure to relive the memories of the moment with the beautiful plaque.
This is the best way to preserve newspaper articles, and not only are you going to remember the event for years to come, but so will your employees, clients and everyone else who comes in contact with the plaque. And as the plaque is sure to look brand new years after you purchase it, you'll have more than enough time to add to your success and place additional plaques along side.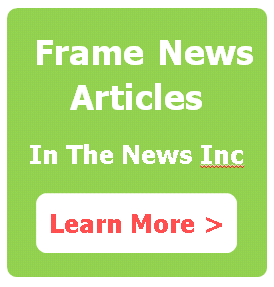 Commemorate your achievement with a wall display that is guaranteed to make a lasting impression. With more than 1,000,000 clients and over 25 years of experience preserving your press, we offer our first time customers the opportunity to inspect our product for 10 days with no obligation to purchase.