Organizations that want to promote and publicize their products and services understand that writing a great press release is one of the most important tools to get the word out, communicate effectively new ideas, increase name recognition, and create that all important "buzz" to drive traffic in the right direction:
When a company or individual publishes an important and effective press release to a news wire, a distribution email or in the business section of a newspaper or in a trade magazine, they want to preserve it for posterity and to include it in their portfolio to potential clients.
Mounting, framing, and displaying the best press releases on the "wall of fame" in an office can be a great way to showcase success and expertise in the industry and acknowledge the achievements of employees and staff.
Considering the shelf life of paper or an email, keeping original press releases in file cabinets will not do enough to save them from eventual yellowing, fading, deterioration, or just being deleted and ignored.
There are a number of ways to professionally frame an original press release to ensure that it is portrayed in the best light and will last a lifetime. The following are some of the details and features available for framing press release media and publicity to keep them intact and relevant:
Mounting on hand stained and beveled wood plaques in ebony, mahogany, walnut, whitewash, and natural.
Trim in custom accent colors.
Protection with a laminated and heat-sealed semi-gloss finish.
Customized engraving in gold and silver lettering with black overlay.
Manufactured by state-of-the-art equipment using a skilled team of craftspeople.
Customized layout designed to maximize readability and aesthetic appeal.
Framing of publications insures that press releases will continue to make an impression long after the publishing date passes: It was a moment in time that can now be memorialized for the future.

At In The News Inc. we specialize in mounting and laminating magazine and newspaper articles for businesses, sports figures, publishers, restaurants, hobbyists, and families from all over the United States.
We offer a way for those featured in a publication to make a lasting impression by preserving and displaying their success. You've probably seen our wall displays on some of the best business walls in the country.

If you're in the news, we know it, and we make it our business to offer you our custom lamination service. We subscribe to over 6,000 publications including every major daily newspaper in America. In addition we receive nearly every magazine, business journal, and trade publication from every city, state, and region, covering a wide variety of subjects.
Our account representatives work with businesses and individuals as they appear in the news, delivering a product that prominently and tastefully displays the original article or achievement in which they have been featured.
Were you featured on a blog, listed on a Press Release, or promoted in social media? Nowadays you're just as likely to be featured on the web as in a printed publication, and it's both noteworthy & credible! Preserve & display your spotlight with a wall plaque that will showcase your recognition in the online community. Ready to get started on your display?
Not having any luck getting any press? Want to know how. It might be easier than you think.
Download our Guide: How to get articles published.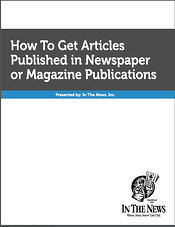 Visit our website @ www.inthenewsonline.com and get to know us better.