Were you featured on the cover of a magazine, have an article published, or mentioned in a write-up? Being spotlighted in a magazine, whether it's a local zine or a national publication, is an exciting accomplishment and definitely something to talk about. Be sure to save and display that good press!
You might be asking yourself great how am I going to get this article up on the wall. That's where we come in. Download our check list with some great tips on how to prepare and what to think about when you consider framing a personal magazine article.
We specialize in mounting and laminating magazine and newspaper articles for businesses, sports figures, publishers, restaurants, hobbyists, and families from all over the United States. We offer a way for those featured in a publication to make a lasting impression by preserving and displaying their success. You've probably seen our wall displays on some of the best business walls in the country.

If you're in the news, we know it, and we make it our business to offer you our custom lamination service.
We subscribe to over 6,000 publications including every major daily newspaper in America.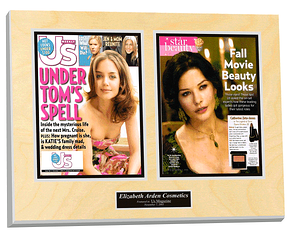 In addition we receive nearly every magazine, business journal, and trade publication from every city, state, and region, covering a wide variety of subjects. Our account representatives work with businesses and individuals as they appear in the news, delivering a product that prominently and tastefully displays the original article or achievement in which they have been featured.
You can get to know us a little better by visiting our website @ www.inthenewsonline.com
If you found this article interesting you can read another great article we put out last week:
Why you would preserve a magazine article with a wall plaque.