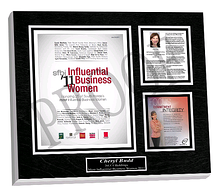 Recently Forbes released it's 100 Best Companies to work for list. Do you know who was #1?
Here is a hint: You don't have to Google it!! That's right Google your favorite search engine topped the list for the fourth consecutive year.
Why? Big data and analyzing their employees with a creative method they named POPS.
Bascially they have a way of defining happiness by measuring certain reactions and tracking this information, wait did I just go nerdy on you.
Not to mention Google offers a special package for the families of those who pass away while working for them and the list goes on and on and on.
It's ok hopefully your boss or company will take notes and start to implement some of what Google is doing into your working environment.
But just because they are #1 out of 100 does not mean all the other companies are not doing some very interesting things to be considered a cool place to work.
Read the list and I am sure you can find one interesting thing each company does that you could take away and learn a thing or two about how these top notch facilities run a business.
Spoiler alert!! It comes down to the way they treat their employees. Imagine competiting for the most talented people in your industry how are you going to separate yourself and get the hires your need.
A couple of things come to mind that might not have to do with the way you treat people you could consider if you are trying to make the list of best companies to work for in the future.
Location - It might make sense to start a business in California instead of Alaska.
Industry - You may want to consider starting a company that has a trending industry value going up. It might be wise to consider some type of App or New Technology as opposed to opening up a newspaper.
Although after looking at the Forbes list again the top 5 companies all have one thing in common they treat their employees like they are special. SAS CEO for instance picks out 20 people to call and thank them for working at the company.
So would it not surprise you if some of the companies that made this list or any other list for that matter would take the time and create a custom plaque or display award after being recognized as a great place to work, eat, visit, etc.
It certainly would not surprise us we are the company who creates those wall displays for those great companies who get listed.
In The News Inc creates custom wall displays for companies and businesses who are featured in a positive light. We mount and preserve good press to promote healthy company morale and excite particular pockets of enthusiastic employees or companies who are on the rise.
Did you or your business win a prestigious award or make a Top List? Need to honor or recognize a great employee? Did your child win first place in a competition? Recognize and appreciate the people in your personal and business life with a display piece they will be proud to show off. Ready to get started on your display?
If you're in the news, we know it, and we make it our business to offer you our custom lamination service.
We subscribe to over 6,000 publications including every major daily newspaper in America. In addition we receive nearly every magazine, business journal, and trade publication from every city, state, and region, covering a wide variety of subjects.
Our account representatives work with businesses and individuals as they appear in the news, delivering a product that prominently and tastefully displays the original article or achievement in which they have been featured.
Visit our website www.inthenewsonline.com or call 800-548-3993 ext 3002