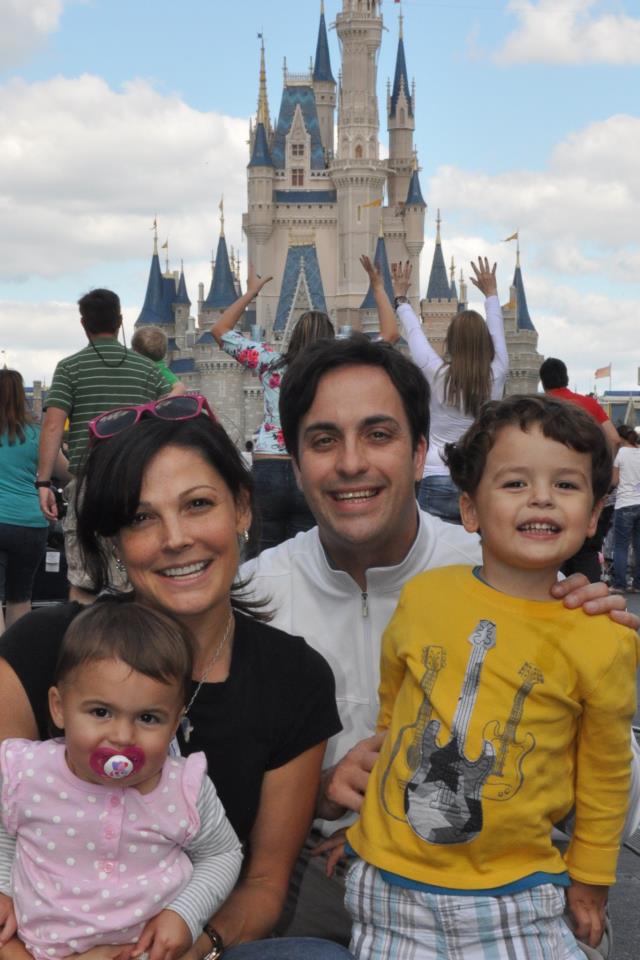 Have you ever been to Disney? Remember when you where a kid the first time you went what a awesome feeling it was to meet your favorite characters.
Do you remember the face painting caricatures and asking your parents or loved ones for an extra dollar for a souvenir you might lose on the way home?
How about taking pictures with Mickey or Donald and who could forget waiting an hour and a half to ride your favorite ride.
All I could remember is my parents running around taking picture after picture to remember every moment.
My wife and I took our 3 year old son to Disney this past year and enjoyed all it had to offer.
One of the things we where able to do when we arrived and walked near the castle was to take a photo. We where asked if we wanted our picture taken by one of the Disney Staff. They where kind enough at the time to take a bunch of photos of us in front of the Castle. (see photo above)
The best part about the experience was we didn't have to wait for the pictures to be developed nor did we have to pick them up at the end of the day, we where given a code to login to a website where for free we could view the photos and then if we chose to purchase them later we could at a cost.
Of course we ended up purchasing a lot of photos and even used one we liked the most as our Christmas Card and the others we ended up putting in frames.
It never occurred to me to take the pictures into my work and have them framed and displayed, we only make about 200 display frames a day.
Then I started thinking as I looked around the office, how many people have unique and fun pictures and family photos they might want framed.
I found a great example in the office of our accounts receivable manager. She had entered her children into a cover contest and they where chosen as the winners. The children where invited down to take photos to be on the cover of Families Magazine.
Cover Contest Winners Families on the Go: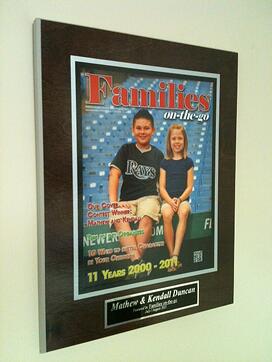 How many times do you get the opportunity to re create the front page of a newspaper and have your kids or your photo to be on it?
It's possible to turn those moments into something special with a framed newspaper display. Having personal photos framed is nothing new but using our company might be.
We generally create framed article plaques from actual newspaper or magazine publication features.
Got something a little different in mind? No problem! We can preserve all kinds of documents & small items, including, but not limited to: photos, video & TV screenshots, book jackets, diplomas & certificates, wedding & event invitations, artwork, and small memorabilia.
Don't let your creativity stop us, we're happy to satisfy your unique needs with a completely custom display piece. Ready to get started on your display
Whether a trip to Disney or a Cover Photo Contest we can mount and preserve your favorite photos into wall display memories that last forever.
In The News, Inc. was established in 1987 and is now the largest custom lamination and engraving company in the country that specializes in newspaper & magazine articles. In our 25 years of operation, we have created over 1 million custom, hand-stained wall plaques for our national consumer base of over 500,000 clients.
Visit our website @ www.inthenewsonline.com to learn more about specialty plaques.