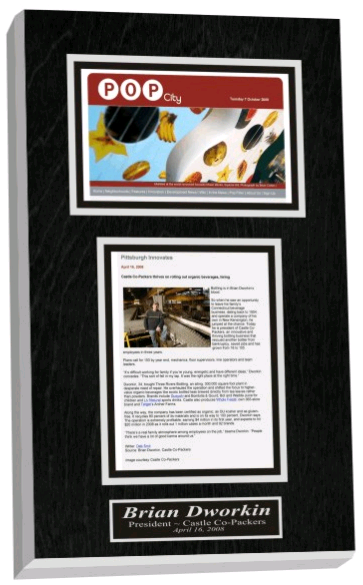 In the digital world it's hard to stay relevant, more importantly it's hard to take what has been said online and take it off line.
Some might argue why would you want to just keep the information online and maybe move it to your website, highlight the article and move on your merry way.
That would be great if we all sold widgets that everyone could purchase directly from your website, but we know that's not always the case.
What if you are a Restaurant? What if you are a Barber Shop or any type of business where you are going to have customers visit your place in order to make a transaction or reserve the type of service you offer.
Yes, someone might read a great blog or online article about you or your business and hope that leads them in to your store.
Here is the Question. Is that enough marketing?
A great article or review even online deserves a little TLC.
Here is a scenario, what if a customer went online read a great review of your type of business then came to your company and saw the article they just read hanging on the wall in the form of a customized wall plaque?
Now that's solid marketing.
It's the little effort that makes a difference this is why we think it is just as important to highlight those articles that live online and create custom wall displays to help those businesses looking for a marketing edge.
The price of doing this type of business is less than you might think but the returns on these types of investment are immeasurable.
For hundreds of years companies and businesses have been advertising in newspapers and magazines to attract new business. A lot of work used to go into getting a favorable article on your company.
This process of highlighting articles has always been the shiek thing to do especially in the service industry.
Salons, Bars, and Restaurants continue to mount and preserve favorable reviews for customers to see and read in their stores.
They believe and so do we that it gives them instant creditability. Unfortunately now a lot of this credible information is online, we try and help those looking to capitalize on good online press by taking those articles and creating customized review plaques.
Other examples of industries that have always done a customized wall plaque:
In The News recognizes the power of online articles so much so we have a team of designers willing to work with you to create an award winning custom display piece.
We can add special photos, re stack text and work with you to make your features online come to life on your walls to make your business go.
We make it easy for you to make a first impression.
Were you featured on a blog, listed on a website, or promoted in social media?
Nowadays you're just as likely to be featured on the web as in a printed publication, and it's both noteworthy & credible! Preserve & display your spotlight with a wall plaque that will showcase your recognition in the online community. Ready to get started on your display?
To learn more about In The News or frame and display online articles with customized wall plaques click our button.
Please visit our website for more information @ www.inthenewsonline.com