How does a company reinvent itself? If you are the new Yahoo.com CEO Marissa Mayer you decide to call everyone to the office, and I mean everyone.
As of June all employees at Yahoo, including telecommuters, must report to the office as their new CEO attempts to shake things up after only 7 months on the job.
This has set off a firestorm from both work at home supporters, IE Silicon Valley, and time clock punchers.
Of the 11,500 employees at Yahoo it is not known how many work from home but you can be assured it's a lot. Mayers' decision came in the form of a memo from her Human Resources department. Ouch!!
Such a bold move will be looked at from all sides but we must commend her for making a statement as she tries to bring together a company who needs a lot of help.
Good luck Marissa.
But what if you are not a big company like Yahoo, with the economy being as tough as it has been the last couple of years, what kind of changes has your business made to reinvent itself.
We can't speak for everyone but we can certainly share a little of what we have done at our company in the past year or two that has helped us remember who we are and what has made us a success.
It's all about our customers.
We have turned to our customers to highlight and celebrate with them their continued success.
It's a digital world and more and more it's becoming a visual world. Our product, custom frames fits perfect into this concept, and with a little work we have relied on our customers to showcase our product in a fresh new way.
There is a lot of competition in the framing business, what better way to combat some of the competition than by using our best resource, you.
By sharing and promoting our customers we have opened up to an entire new avenue of visitors and gained a whole new array of followers.
It's about sharing, one thing we have learned if you don't ask you will never find out.
Here we highlight our most recent photos from around the country:
Farmingdale Gymnastics Academy - Pictured Coach Kim Rhatigan, Alexis Fraher (featured) and Assistant Coach Vicky Vitale - They loved their plaque :)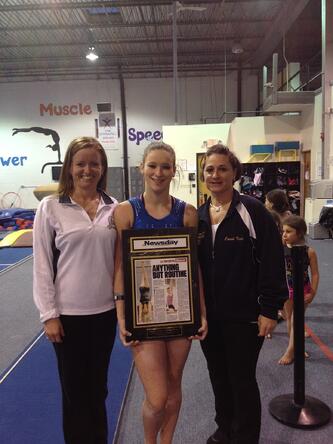 The second photo is from Cody Hicks and his 97 GMC Sonoma featured in Street Trucks. This photo was posted on Layinbody.net Facebook account. The photo was taken at this years Lonestar Shakedown, a custom showboard is a great way to show off your rides that get featured in a magazine.
Lastly, Mario Aguila owns Aguila Sandwich Shop on Hillsborough Ave in Tampa Fl. Great food at great prices, he was on the TV show Man Vs. Food twice, so we had this plaque done for him when they came the second time.
We love the pictures not only do we get to see our work but we are reminded how great it is to be featured in a magazine.
A magazine frame or newspaper frame can be fun again and we look forward to helping those featured with our article plaques.
If you're in the news, we know it, and we make it our business to offer you our custom lamination service. We subscribe to over 6,000 publications including every major daily newspaper in America.
In addition we receive nearly every magazine, business journal, and trade publication from every city, state, and region, covering a wide variety of subjects. Our account representatives work with businesses and individuals as they appear in the news, delivering a product that prominently and tastefully displays the original article or achievement in which they have been featured.
You can visit our website @ www.inthenewsonline.com we look forward to hearing from you.