Recently I have had a breakthrough, although some around the office might call it a breakdown but that's besides the point.
I mean really, you try coming up with creating content for a newspaper article framing business.
Then it hit me over the head, what do we have an abundance of that I could use to convey a proper message to those potential people searching on the internet for a company to preserve and frame articles?
Easy, what we have is an abundance of clients and customers who enjoy our style of plaques. I did some research on Quora and the chances of someone getting an article about them or their company in the newspaper is about 1-6.
This might explain the answer to another question:
Is it a big deal to get an article published in the newspaper?
Let me share with you a recent experience we had on our Facebook page. It might help to explain my point. We can only hope there is one!
On Janurary 21 we celebrated Martin Luther King Day as a country and throughout the world. In one such area the Rev. Katrina Jenkins, Chaplain at Illinois College, delivered a message to "realize the vision" as the guest speaker at Monroe Street Christian Church.
The following days events were highlighted in The State Journal Newspaper, the oldest paper in Illinois. The article was accompanied by a photo on the front page and two others in the article.
We contacted the Rev Jenkins and offered our service to mount the article for display as a way to preserve the memory of the day. She agreed and was kind enough to take a photo of her newspaper frame when she received it. What we did not expect was the note that accompanied the photo.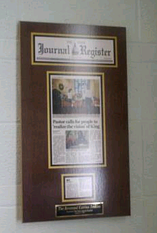 photo caption/quote from Rev.
"This is probably not the greatest photo, but my plaque is hanging up right across from my desk so that I can look and admire what a lovely piece it is. Thanks for doing such a wonderful job on it. I get so many compliments from people who visit my office." - Rev Katrina Jenkins Illinois College Chaplain
What a powerful message both from the Rev. and for our business, the lesson learned for this marketer is you never know where good content is going to come from and you can't be afraid to ask your customers to participate; they just might surprise you.
In The News Inc creates framed article plaques for those featured in newspaper and magazine publications. If you have a story and want to get it published download our guide to getting articles published.
You can visit our website @ www.inthenewsonline.com
Were you featured on the front page of the newspaper? Have you been published in a business journal? Were you spotlighted in a community newsletter? Newsflash!
If you've been featured in a newspaper article, it means you are worth talking about and that's a great success! Preserve and display your good press with a custom wall plaque and keep people talking about you. Ready to get started on your display?