Newspaper Frames go International in The Chatham Daily News – Introducing a new Partnership with Sun Media Publications .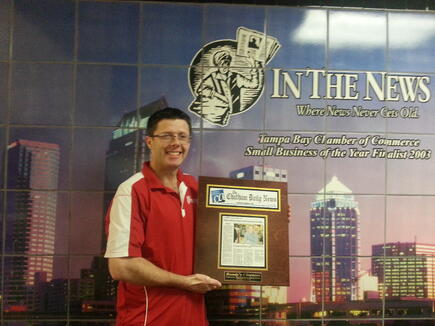 Good news neighbors to the North! In The News Inc. ships internationally! We are excited to begin offering our alternative to newspaper frames to even more areas of Canada.
Additionally, we are proud to announce our partnership with Sun Media Publications! Our first plaque from this partnership was sent out to our new friends at Bondy's Cleaners in Chatham, ON. (In photo Acct Rep, Clifton Mathews holding framed article)
They are celebrating an amazing 50 years in business, with second generation owner Michael Bondy. Not only is Mr. Bondy running a successful business, he is serving as a Municipal Councilor but he has worked with United Way of Chatham-Kent to help collect over 1,000 coats for their "Operation Cover up".
One of the most exciting parts of our job here at In The News is helping our customers to
not only celebrate their milestones and achievements but also to help them present their positive story in a professional manner for their customers to see on display. Every business owner should be excited to celebrate the great things they are accomplishing!
We are looking forward to working with many more customers showcased and featured not only in Sun Media publications but in any newspaper or magazine all across the United States and Canada.
Sun Media Corporation is Canada's largest newspaper publisher with 44 dailies and more than 200 community and specialized publications.
In The News Inc. is the largest provider of custom wall displays in the United States. You can visit our website @ www.inthenewsonline.com or take a look at some examples and start your own newspaper frame below.
If you are curious and want to read more about In The News check out a recent post on:
How Can Newspaper Article Framing Benefit Your Organization?