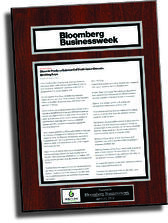 A lot of work goes in to crafting the perfect press release. Writing. Editing. Polishing. More writing, editing and polishing.
We use press releases to announce big events, to tell the whole world about something important we're doing. But unfortunately, these press releases only last for as long as it takes someone to read an e-mail or open up a newspaper.

Why not give our work a little more longevity? Why not commemorate these special occasions, not just with a one-off press release, but with something you can display proudly in your office? Here are just a few reasons why you might want to consider a press release plaque:
To remember. Sending out a press release to celebrate your company's 50th anniversary? To announce a new CEO? To introduce the Next Big Thing in your industry? A lot can happen when you're taking a big step like that; a framed press release can help you to remember that time and place in your organization's history for generations to come.


To display. Your office no doubt already has awards and certificates displayed. While these demonstrate your skill as recognized by outside organizations, they don't always recognize what really makes you unique, what sets your group apart from others in your field. Only you can do that. A press release plaque demonstrating something that's important to your company will help give you more character and tell visitors to your office just who you are.


To market. It's the advertisement that keeps on advertising. Announcing a new service or product? Display the press release proudly in your work space, to remind prospective and current clients what your organization does and what you have to offer.


To drive. Nothing motivates you to achieve more than surrounding yourself with that which you've already achieved. For those times when you're not sure how you're going to get through the day, a few plaques around your desk will help remind you where you've been, what you've done, and what you CAN do.


To gift. For all the reasons listed above, a press release plaque would make a great, one of a kind present for a boss, an employee, or a loved one. It's a thoughtful, personal gift commemorating someone's accomplishment; who wouldn't want that?
With a press release plaque, you can forever remember and re-live your company's greatest achievements. Check one out today!
In The News Inc
. specializes in mounting and laminating magazine and newspaper articles for businesses, sports figures, publishers, restaurants, hobbyists, and families from all over the United States.
We offer a way for those featured in a publication to make a lasting impression by preserving and displaying their success. You've probably seen our wall displays on some of the best business walls in the country.