Is it me or are woman starting to dominate the corporate world? I mean just look at CNN's Money and Fortune list of the 50 Most Powerful Women in Business from 2012 and you just might become a believer.
Take a look at the top three on the list:
IBM President and CEO - Ginn Rometty
Pepsi CEO - Indrid Nooyi
Hewlett Packard CEO - Meg Whitman
And of course most recently one of my favorites from Facebook the wonderful Sheryl Sandberg, coming in at #8 in 2012, but with her soon to be best selling book, "Lean In Women, Work and the Will to Lead" she might be climbing up to the top of this list shortly.
Yes, no question women are starting to lead the way and our hats our off to them, bravo.
So it got us thinking why not honor the women we know who adorn magazine covers and proudly display those magazine covers with custom plaques from In The News.
We started a list and chose three women who have had their companies featured on the cover or themselves been on the cover of magazines and sent us pictures of their beautiful magazine frames.
Jennifer Nicole Lee - American fitness model, actress, motivational speaker, and author. As of 2012, Lee has appeared on 44 magazine covers,including three appearances on the cover of Oxygen magazine. Jennifer has graciously had her magazine covers laminated and framed with custom plaques from In The News Inc. (check out the wall)
Up next, Jamie Liu in an industry full of testosterone and "Car Guys" Jamie stands out as a Heavy Hitter.
Featured on magazine covers such as (PAS)Performance Auto Sound, and Heavy Hitters magazine she is a force to be reckoned with in the world of enthusiasts. No stranger to car shows Jamie has owned a widebody Mercedes SL, McLaren SLR, Maybach 62, Ferrari 360, CLS 55, E55, Hummer H1, a BMW 735, a turbocharged S2000 and a Honda Civic.
Here she sent us a shot of her trophy room: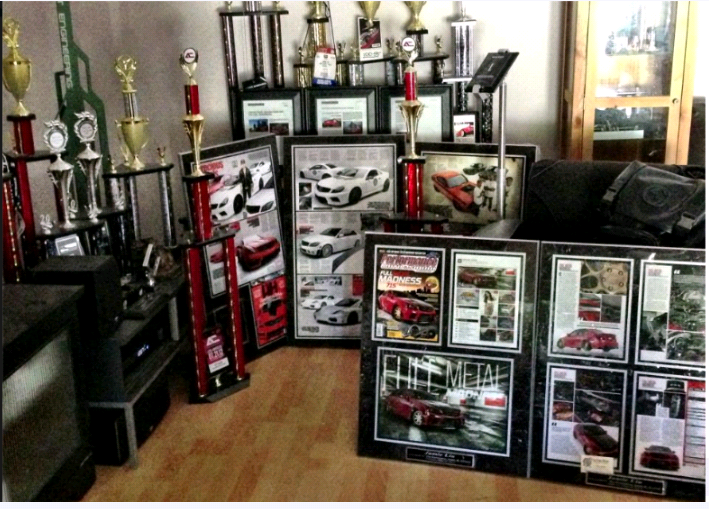 And last but certainly not least Julie Hildebrand and the Independence Public library in Kansas, who in 2012 has been called by the Library Journal the Best Small library in America.
This is quite a feat and honor under the direction of Julie the library has reached a pinnacle of recognition and she sent us this photo from one of her four plaques she ordered to celebrate the accomplishment.
So our list begins, we would love to add you to our list of successful women who are featured in or on the cover of magazines, it would be our pleasure.
In The News creates custom wall displays for any print publication across the country, we look for those featured and offer our service. We are the original plaque company if you would like to learn more about our process and product you can visit our website @ www.inthenewsonline.com
Have an article submit it for a quote and get to know us click below: