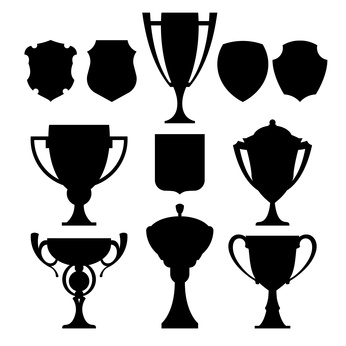 Your life is an experience worth bragging about. Sure, you may have a resume or scrapbook detailing your achievements; but what about your certificates? Your features or pictures from the local newspaper? Your awards? The first thing that may come to mind is a shelf full of trophies portraying your achievements with shimmering gleam, but that is no way to show off what you have achieved! While trophies may be tempting souvenirs, they are the reason that may be lowering the quality of your workspace! But how can trophies hinder the amount of your achievements?

Plaques vs. Trophies
Winning a trophy is a wonderful moment in one's life. Whether through a sporting event, an achievement through work, or a specific milestone, trophies always create a wonderful sense of achievement when placing it on a shelf. But why say no to trophies?
Trophies are bulky. They can take up a lot of space that may overcrowd your workplace. A crowded office then takes away from the glory of what you have accomplished. Add to that the excess expense of new shelves or cabinets to house them all. Over time, trophies can lose their shine, and the extra weight can break the shelves that cost you your hard earned money. Not all information can be placed on a trophy, but you can customize every detail on your own plaque!
While trophies may usually contain just your name and the event, plaques can add so much more. Your name, position, award, and any related documents or photos can be placed on the plaque as well. Documents and trophies can become very crowded when placed together, but plaques can turn achievements into a neatly organized visual resume on your own wall. Plaques can decorate the walls of your home, office, or workspace. Looking to impress that client that's coming to visit? Give them your best impression with established credibility and a recognized professional image. If the plaques are for your company, you can place them in a break room or communal workspace to inspire your employees.
When choosing plaques over trophies, you save yourself time, money, and office space. You can hang your plaque anywhere or display it in any cabinet; trophies can only sit on tables or shelves that hardly leave enough room for anything else.
Our Plaques
Your achievements are as unique as yourself; your plaques should be just as unique! With our customization technique, you will be able to list whatever detail you want to portray your accomplishments. You can feature pictures, newspaper clippings, articles, dates, and even personalized engravings.
Our handcrafted plaques are treated to ensure that every detail is finished efficiently and effectively, resulting in a product that portrays professionalism how it should be portrayed: neat, tidy, and state of the art.
The wooden base is customized to your preferences. The base also features the craftsmanship of being hand-stained, beveled, and set with trim. Your photograph, newspaper clipping, article, or other document is laminated and sealed to the wood with heat, ensuring a clean, preserved look with a semi-gloss finish. A personalized engraved plate adds the information to your achievement.
With options like ebony, mahogany, walnut, and more, your plaque can look exactly as how you imagine it. Recognition comes in every shape for every wall, whether it's for salons, architecture, education, community, inspiration, technology, medical achievements, restaurants, or sports articles. It is impossible for trophies to be available with this much customization.
Customize Your Plaque Today
With the completion of a form, you too can begin your own wall of well-earned achievement. We can even find your article for you. We will contact you to discuss the personalization details, and when you receive your plaque, you will have two to four weeks to inspect it to ensure it's perfection. Your achievements deserve to be proudly displayed. For any and all of your plaque needs, contact us today.