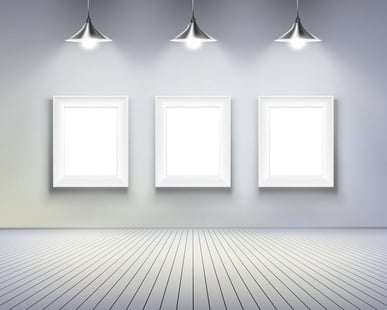 As a restaurant owner, many keepsakes mean a lot to you: magazine articles, newspaper features, or even your first dollar. The opening of your restaurant has been covered in the local paper, and good reviews soared out of the page. But over time, the newspaper clippings and photos have become fastened together with a paperclip, and possibly placed in a corner or the back of a drawer. Your achievements deserve to be shown proudly. Both you and your restaurant can benefit from a custom wall display. You design the display, we make it, and your restaurant instantly becomes a place of prestige.
The Business
Imagine a restaurant. The food is wonderful, the service is fantastic, and the theme is consistent. But, there's an empty wall. Now imagine that empty wall covered with that restaurant's prized keepsakes featured neatly across the wall. The difference lies in the confidence. You as a restaurant owner have the confidence to create such a wonderful place to eat; show that same confidence on your wall.
With a custom wall display, the customers of your restaurant will be lured into your establishment. A wall of preserved articles, clippings, and pictures both benefit and inspire your employees to do well, increasing the quality of service provided. The wall can become an inspiration, a conversation piece, and a valuable way to show customers your standards of professionalism. Customers are drawn to good service and professionalism; achieve an increased quality of both with a custom wall display today.
The Customers
You want your customers to visit your establishment and leave with a good, everlasting impression. What better way to do that than to show them what your company has done? Your company has many achievements, and having a wall of plaques is not boasting or bragging, but showing your customers the amount of credibility your restaurant has. A custom wall display is a great way to portray to customers the high level of service you provide. A custom wall display conveys a company's confidence, and when a company has confidence in itself, the customers have confidence in the company.
The Media
Your custom wall display will not only add a sense of accomplishment and pride to the environment of your restaurant, but also add those very same things to the environment of your restaurant's website. If you run a company website or blog for your restaurant, a picture of your custom wall display will have the same effect on your website that the physical display has on your restaurant. The wall display does not have to be shown only to those who step into your restaurant, but can also be available to those who click onto your website. A picture of your display case on your website can mean the difference between a list of accomplishments versus the stylish display.
Information
Every display's base is available in the wood ebony, mahogany, walnut, natural, and whitewash. Any one of these colors will look great with the wall of your restaurant. We also have various types of design, including a specific display category for restaurant plaques. We offer quality service and after some background information and the article, we can create for you a keepsake to last forever.
Contact Us Today
The reception of your restaurant can greatly improve based on aesthetics alone, and a custom wall display can add to the look and feel of your establishment. Contact us today for any of your display needs. Whether you need us to make a single plaque or a display for the entire wall, our service is designed with the needs of your achievement in mind.