You have achieved many things in your life. Whether it's a trophy, a certificate, an award, a newspaper article you wrote or a magazine that featured you, you have achieved something wonderful and worthy of recognition! But trophies can take up space and fall, and certificates and articles can rip, tear, or yellow over time. You need to preserve your recognition permanently with a wall plaque. But what makes a wall plaque so special? Do we carry a variety for specific awards? What is the process for ordering a plaque? You will be happy to know that with us, personalizing and obtaining your plaque is simple and stylish.
Categories
Achievements can come in any form or style – just like our display categories! Make your display look as unique as your achievement with us. Our displays come in a wide variety to ensure that your plaque best displays your achievement in a chic, stylish design. Our categories include: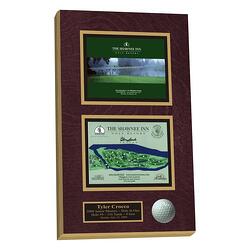 Automotive
Award and Recognition
Building and Architecture
Education
Environment and Nature
Family and Community
Heroes and Inspirational
Manufacturing and Technology
Medical
Miscellaneous
Restaurants and Hospitality
Sports and Entertainment
Our plaques also include designs for magazine articles, newspaper features, webs, blogs, and any other kind of certificate or award. With the list of samples on our website, you can design and personalize your plaque the exact way you want it! Contact us today to start your plaque.
The Base
The base is what will frame your achievement. Our wooden bases are designed to beautifully accent your recognition, that come in a variety of earth tone colors. Our bases are available in:
Ebony
Mahogany
Walnut
Natural
Whitewash
Your certificate, award, writing, or feature will look perfectly paired and complemented with any of our fine, handmade bases. You can even personalize your plaque with a trim that will accent your award in a variety of colors:
Black
Gold
Silver
Red
Orange
Yellow
Green
Blue
Purple
The layout of your plaque will be organized and made with accessible readability in mind. Any of our plaques will decorate your wall and bring any room the element of professionalism.
The Process
To begin the personalization of your plaque, our information form is available on our website. We will need your basic background information and a way to contact you. If you do not have a physical copy of your article, we can find it for you through publishers or the library. We will contact you to discuss the personalization details, and when you receive it within two to four weeks, you will have a beautiful plaque to mount on your wall. First time customers will not be unvoiced until examination of your custom wall plaque to ensure its perfection.
Custom Wall Display
If you are in need of more than one plaque, consider your very own custom wall display. When the designs are hung perfectly on the wall of your office or home, it is like staring at a visual résumé of accomplishments! Your custom wall display can be made with a theme, or with a unique touch to each plaque; the personalization is entirely up to you! Custom wall displays are great for more than one plaque together. Show off your career's accomplishments, or your restaurant's features. Any group of accomplishments can come together to become an exhibit that demands attention!
Call Us Today
A plaque is a beautiful commemoration of your accomplishments. You deserve the recognition of a stylish display in your room or office. Whether it is a single plaque or a custom wall display, do not hesitate to contact us today for any and all of your plaque design needs.