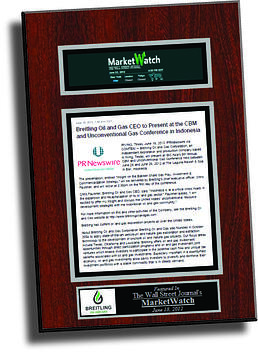 Congratulations, you have made it to a list of the Top Ten services in the area of your business. You have a lot to be proud of. To be included in a Top Ten list is to be recognized for you and your company's expertise, and will create a ripple effect beneficial to your company's business. Increased attention can not only bring in new customers and clients, but it will also give you and your employees a sense of pride to be working for such a successful company. Now that you have been featured, what do you do next? You can preserve it with a customized wall plaque for a concrete exemplification of your success.
Your Feature
Your feature is a big deal. You and your company have worked hard and now you have been considered one of the best. Preserving your achievement with a plaque means that your feature can be proudly showcased on your wall. With our many different options available for your display, your plaque will make your feature look stylish and preserved. With a feature as important as a Top Ten list, your plaque can be displayed at your entrance to give your customers and guests a first impression of your success. A Top Ten list can even become the centerpiece of your custom wall display alongside your awards and employee recognition.
Why Top Number Lists are Great for Business
Top number lists boost your public image, which in turn generate more attention for your marketing plan. When it comes down to the bottom line, business is all about marketing. You already know that, but this single basic fact can help you increase business with your marketing plan.
If your Top Ten feature is an online article, you can link it to your website, blog, or social media platform. By preserving your feature in a plaque, you can hang it anywhere in your business. A picture of your new plaque can then be featured on your website, blog, or social media platform. In either case, viewers will be attracted to your business as customers and clients and your business will thrive.
About Our Plaques
Handcrafted with expertise by our experienced designers, you will only be receiving the best of the best. The original article will be mounted on a three-quarter inch base. The base itself will be hand-stained, beveled, and set with the trim of your choosing. The article is sealed to the base with heat to preserve it for lifetimes. A plate is then included to personalize your plaque with details about your feature. The lettering is gold or silver according to your preferences with a black overlay.
The wood stain is available in many colors according to your preferences. Styles include:
Ebony
Mahogany
Walnut
Whitewash
Natural
The trim is available in:
Black
Gold
Silver
Red
Orange
Yellow
Green
Blue
Purple
Engravings include the details of your feature that you wish to be incorporated into your display, such as the magazine or website it was published in, the date of publication, the article title, or your name. For an additional fee, company logos can be added. We have samples of our work displayed on our website for your viewing pleasure. They are sorted by which layout best suits the category.
Contact Us Today
All we need is your information and the feature! If you do not have a physical version of your article, we can find it for you! Plaques are a great way to show off your company's accomplishments, even at trade shows and business events. After we get the details of your stylish personalization, you will receive your plaque within a month. If you are not completely satisfied, return shipping is on us and we will perfect it in any way you wish. Call us to start preserving your featured list today.