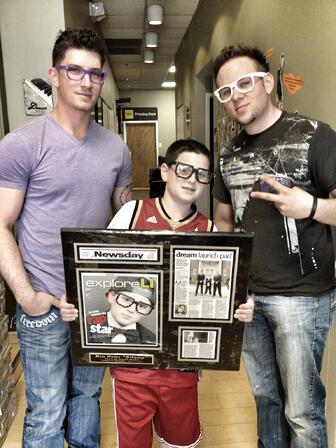 Plaques are a memorable way to preserve your special events for generations. Whether you have received an award or certificate, or if you have accomplished a remarkable feat, plaques are a great way to preserve the moment in permanence. Plaques are also a great way to preserve newspaper features, magazine clippings, and even pictures! Do you need a way to preserve your writing, feature, graduation pictures or wedding photographs? Plaques are your answer to anything you need preserved, and we have an array of options for you to choose the perfect plaque for your memories.
Plaques vs. Photos
Photos can rip, wrinkle, tear, and fade over time. They can be stained, damaged, and forgotten. They can be preserved if placed in a drawer, but they can get lost among piles of papers and may accidentally get thrown out. Your memories are important, because the events in your life are important. Plaques will not get lost in drawers or papers because they can be placed on your wall, and they can't get ripped or torn because they are sealed with heat to the wooden base.
Plaques vs. Photo Albums
Photo albums can capture dust inside the plastic which can turn photos yellow over time, and while scrapbooking can be fun, it is also time consuming and expensive. Photo albums are good at keeping your memories in one place, but they also can not openly display your photos for everyone to see. Plaques can be displayed for you and your loved ones to immediately see, and will not make your photos yellow over time.
Plaques vs. Picture Frames
Picture frames can be decorative, but can be damaged easily if dropped. The glass can shatter and the frame can crack or break. Plaques hang securely on your wall, and will keep your memory safe with its preservation.
Special Occasions: The Importance of Preservation
Unfortunately, photography has not always been around, so everyone at some point wonders what their ancestors have looked like. Do not let future generations of your family feel this way! Plaques make great gifts and decorations, and they can be passed down to future generations. Plaques can be turned into family heirlooms which can be remembered throughout the years. Preserve your memory and the memory of your achievements today.
About Our Plaques
The wooden base of our plaques come with in the colors of ebony, mahogany, walnut, whitewash, and natural, with complementary trim available in black, gold, silver, red, orange, yellow, green, blue, and purple. We have many different layout designs available according to the specifics of your plaque's content. We also provide a custom engraving to accompany the focus of your plaque, engraved with information to your memory, such as the date of the event and the names of you and your loved ones. This process is all about your own personalization, so you choose exactly how you want it to look!
Our plaques are available for any content: certificates, awards, accomplishments, magazine and newspaper articles, and special occasions. Any of your accomplishments can be preserved with a plaque. We have many categories that each come with their own layout design to appropriately accompany your content. Our categories include:
Automotive
Award and Recognition
Beauty, Salon, and Spa
Building and Architecture
Education
Environment and Nature
Family and Community
Heroes and Inspirational
Manufacturing and Technology
Medical
Miscellaneous
Restaurants and Hospitality
Sports and Entertainment
Contact Us Today
Plaques can be hung on any wall and are a great addition to any room! You can even bring them to events that showcase your achievements and memories! Personalize every plaque yourself, and there are no limits to the professionalism of your plaque. We can even help you make your very own custom wall display for an entire collection of photos! Turn your life story into a collection of plaques with us. We can make any memory last for a lifetime with our plaques. Contact us today to preserve your memories.