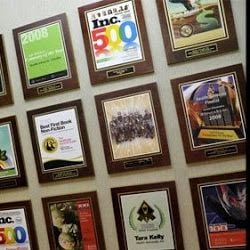 A good plaque company doesn't just consist of technicians who will blindly do what you tell them. If you know what you want, sure, they'll certainly create the plaque to your exact specifications, but they're also so much more than that. A good plaque company consists of true artists, who get excited about making aesthetic recommendations which are specific to your event, celebration, what have you.
Our company offers 5 different hand-stained finishes, each uniquely fitting to certain tastes and occasions - if you're wondering what type of finish you should choose, we're here to help.
Ebony
For a distinguished and stately look, ebony seems to be the way to go. Whether you're issuing an award for a yacht club or an excellence in journalism prize, ebony screams "class!" Additionally, black always sticks out on top of white walls, so if you know for sure that the plaque will be hung on white, this will be a prime choice.
Mahogany
Like ebony, mahogany too, seems to be great for very distinguished types of awards. Maybe you're looking to give an employee a plaque for their retirement, or you're issuing a plaque for a prestigious law award, whatever the case might be, you can't go wrong with this classic wood finish. If you happen to know what the interior of the awardee's home looks like, and you've noticed more than one piece of this reddish-colored wood in it, we would highly recommend having the plaque made with this finish.
If you're having a plaque made for a family member, and you happen to be aware of their decor, as a rule of thumb, it's always best to try to match the plaque to it. This way they'll be more likely to proudly display it. Sure, they may be proud of their achievement, but if the plaque doesn't go with any of their furniture, it might just end up in the closet.
Walnut
If you've seen one plaque with a walnut finish, you've seen what a good majority of plaques look like. Walnut is certainly the classic plaque finish, and this has been the case for decades and decades. Whether the award is business, academic, or athletic, the general yet charming look of the walnut finish seems to encompass all of these achievements, more than adequately.
You've no doubt walked the hallways of high schools and colleges before. If so, you've likely seen a slew of walnut plaques for both academics and athletics. Walnut also seems to be the prime choice for plaques, which have a growing number of names and years, as they seem almost timeless.
Whitewash

Although whitewash would be a creative choice for anything else, weddings and anniversaries seem to be the occasion for which the whitewash finish is most popular. White is a symbol of purity, newness, simplicity, and elegance - traits that represent most weddings so well. If you're having a plaque made for this type of event, really, what choice would be better than whitewash?
Natural
There are those whose aesthetics tend toward the ultra minimal, and for those people "natural," is the way to go. The natural finish seems to go seamlessly with a huge variety of decors and occasions / awards, and it's always pleasing on the eyes. Our natural finish is also great for awards having to do with outdoors-type achievements like fishing, hunting, hiking, and mountain biking.
Contact Experienced Plaque Artisans, Today!
If you'd like some advise on what type of plaque finish to choose, don't hesitate to contact a skilled plaque artisan, at your earliest convenience!