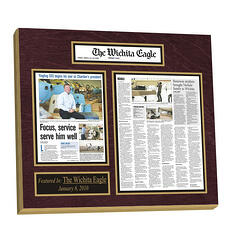 So, your article has just appeared in a major online publication - you're pretty ecstatic about it, and so is your entire company. You're proud of your article and what better way to do that than to mount the article on the wall in your office? Great, but how; and what's it going to look like. Well, we're here to give you some suggestions about that.
A great plaque company will offer you an abundance of choices of how you might have your article displayed. There are quite a few things that need to be considered when deciding to mount your article.
What Color Do You Want For Your Article Display?
Deciding the color of the plaque is a pretty important component to having your article properly displayed. This might all depend on the color of the walls in your office, as well as the color scheme used on the website on which your article has appeared. For a stark and series look, an ebony plaque is the way to go.
You may opt for a natural finish - perhaps if your article has to do with sustainability or nature in general, but then again, natural finishes don't lend themselves all that well to the contemporary-ness of displaying web articles.
A white background might actually fit the display, nicely. If your walls are something other than white, and the article itself is another color too, white would make for a fresh, clean look.
What Size Should It Be?
Bigger isn't always better, but you know, in some cases, it might be. If you'd like your article for display, in a larger size than it originally appeared on a computer screen, a good plaque company ought to be able to do that for you. Often times, however, there's something enticing about keeping the article at its original size - the authenticity and sincerity remain.
Double-Faced Or Single-Faced?
When deciding to have your article mounted and displayed, you can choose to have both the cover of the publication and the article itself displayed, or simply just the article itself. If you choose the double-faced option, the cover of the website in which your article appeared, will be featured on your display. With these options, as well as with the others, there really aren't any right or wrong answers - it's all just a matter of personal preference.
A Great Historical Record Of Your Accomplishment...
If you've got an online article you're proud of, and would like to see it mounted on your wall, don't hesitate to seek the help of a reputable and creative plaque and wall mount display company, today!