If a business has a physical location, and customers visit the premises, then the likelihood of the company wishing to display and frame certificates, authorizations, staff photographs and particularly good press is high.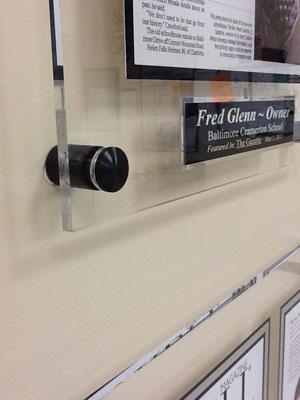 A traditional wood style article frame would suffice and in some cases preferred, heck we wrote the book on custom wood plaques.
But there might be a time when a modern option or a streamlined look, particularly if presenting newspaper or magazine articles where it is desirable to display the publication title as well would benefit you and your business.
For this reason and others we have taken our very successful and traditional wood based display pieces and added to our family with custom acrylic plaques.
Crystaline acrylic plaques are a smart solution for drawing the eye directly to what's important – the information on display.
Differing from the unsatisfactory "plexiglass sandwich", where the document is fixed between two clear sheets, and can shift around, or even slip out, with an acrylic plaque, the image is printed directly onto the acrylic itself.
Printing directly onto the acrylic is a far superior solution than any other technology on the market. It is especially effective if multiple images are required on the same plaque; the clear acrylic allows the information to pop out, and draw the eye.

With discreet wall mountings meaning maximum space is dedicated to the framed information, the innovative choice of using acrylic plaques to display your accomplishments shows that your smart business choices apply to even the smallest detail.
In The News Inc is the premier custom display manufacturer in the country. We have been mounting good press for over 25 years. Introducing our new product line of framed displays or Crystaline plaques will change the way people will display their accomplishments in the news and beyond.
Click below to get a quote and see what your article, photo, and or document will look like on one of our state of the art Acrylic Plaques.