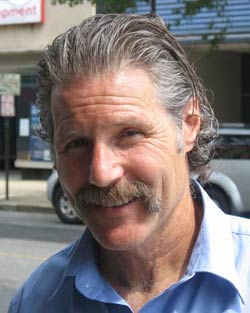 Ivan Geldzahler is the owner and operator of Ivan and Andy's Prime Restaurant & Bar in Asbury Park, New Jersey. A native of the Jersey area, Geldzahler was the son of a kosher butcher. As a youth, Geldzahler would help his father by delivering orders of barbecue chicken to customers on the beach. Geldzahler relished the recognition and sense of community he felt from his customers when making his deliveries, something he talks about in an interview with the New Jersey Jewish News when he states "I wasn't making big bucks, but I was famous because I was the chicken boy… When you go back there [today], it's something that's lost."
Geldzahler's commitment to the community drove him to come back and try to help rebuild the area after becoming a real estate businessman later in life. Geldzahler started a development company with partners Andrew Geller and Andrew Lewis, becoming the GGL Development Group. As a land developer in the GGL Development Group, Geldzahler obtained several condominiums, a warehouse, and a building that would later be zoned as a restaurant with a liquor license. This building on 508 Cookman Avenue in Asbury Park, New Jersey, would eventually become Ivan & Andy's Prime, a restaurant and bar.
Here, Ivan uses his experience as a butcher's assistant to serve the people in Asbury Park "with the quality steakhouse they deserve," as the Ivan & Andy's website proudly declares. Geldzahler demonstrates his dedication to his customers by cutting and aging each steak personally. Their menu boasts big 10oz. Angus beef burgers and Jersey Tomato BLTs as well as vegetarian-friendly veggie burgers and meatless versions of the traditional "cheese steak" sandwich that use portabella mushrooms in place of steak slices.
The location of the restaurant was no accident, as Mr. Geldzahler wanted to give his customers a picturesque view of the nearby Wesley Lake and Kennedy Park. For those looking to enjoy the view, Ivan & Andy's Prime has outdoor seating to allow diners to fully experience the atmosphere. Dog lovers will also be pleased to know that the restaurant welcomes their canine companions at the available outdoor seating.
Geldzahler has been featured not only in the "New Jersey Jewish News," but also in "The Coaster," a publication local to the Asbury Park area. In these publications, Geldzahler is recognized not only for his work in establishing his business, but also for his attachment and dedication to the community he loves.
Mr. Geldzahler has chosen to chronicle his story by having the articles about him tastefully preserved and presented in his very own "In The News" plaque featuring his article in "The Coaster." Now, Geldzahler can proudly display the memento of his accomplishments and life story for all of his visitors to see and enjoy. Old customers and friends can reminisce about the nostalgic memories called forth by the tales of Geldzahler's youthful barbecue chicken delivery days, while new customers can meet the man and know he has roots in the community and a strong desire to help his childhood home grow and thrive. Through Mr. Geldzahler's personal story as it is told in articles such as the ones in "The Coaster" and the "New Jersey Jewish News," visitors to the Asbury Park area can know Geldzahler's integrity and commitment to excellence just as well as his friends do. By preserving such stories in his very own plaque, Mr. Geldzahler can be sure that his tale will endure so that all of his visitors can enjoy it.
Knowing that Geldzahler has such strong ties to his community helps his customers know how dedicated he is to doing business the right way, more than any single review or testimonial can. When a customer sees Mr. Geldzahler's plaque, they see his story and the optimism he has for the future of his community as recorded by a trusted publication. When a customer needs to know if they can trust Ivan and Andy's Prime as a business, they can see the history of Ivan's rise from a butcher's son to a pillar of the community dedicated to the good of the community. Geldzahler's integrity and respectability have been crystallized for all to see in his very own In The News plaque.
Mr. Geldzahler's professionally arranged and engraved plaque will be a constant reminder to his customers, family, and friends that he is looking to do more than be a simple businessman; he is looking to make his neighborhood a better place for everyone to live in. Geldzahler is driving forward for his community and now, thanks to the preserved record of his story, he can share his enthusiastic optimism for the future of Asbury Park with the world. It is our hope that Mr. Geldzahler enjoys the maximum potential for success in his endeavors, and that he and his family are happy.