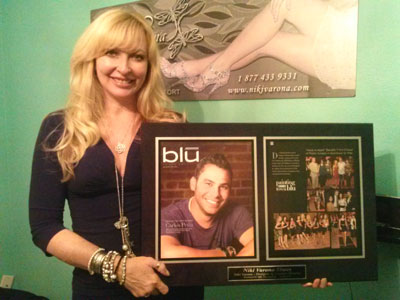 Niki Varona is an entrepreneur who started her very own shoe company based on one concept: the marriage of fashionable couture with comfortable convenience so that women can have shoes that are as comfortable to wear as they are attractive to look at. A creative and energetic youth, Varona began her design career by, as she says on her website, "designing for family and friends." Her passion for design carried her into a career as a professional designer for women's shoes.
Varona soon had her very own shoe design company, and began searching for contacts to make her vision of comfortable designer shoes a reality. Not one to give up easily, Varona began a trial and error process with different innersole materials until she finally found a material that, as the Niki Varona website describes, "distributes 80% of the body impact, providing incomparable comfort." This dedication to finding the perfect material demonstrates the quality inherent to the Niki Varona shoe design process.
Once she had the perfect shoe innersole, Varona knew she needed the best quality manufacturers to make her designs into glamorous, fashionable footwear. She spared no expense in locating expert Italian craftsmen to manufacture her shoes to exacting professional standards using only the best leathers, colorings, and materials to make superior shoes.
More than just a businesswoman, Niki Varona has made the news numerous times in recent months as a participant in different charity events. As described in an article by OurTownFLA.com, Niki Varona shoes were used in a charity benefit celebrity footwear contest and fashion show for the Relay for Life. Varona's shoes were a highlight of the show, and were featured prominently in photos of the event.
Blu Magazine, a local Tampa Bay luxury and lifestyle magazine, also highlighted Varona's participation in the "Have a Heart" charity benefit at the Clinique of Plastic Surgery in St. Petersburg, Florida. Through her work in supporting these charity events, Niki Varona has helped to enrich the lives of people in need and improve the Tampa Bay community.
Varona has chosen to immortalize the record of her charitable work with a plaque by In The News. Her plaque lets her friends, customers, and associates know about her dedication to charity and her position as a pillar of the community. Each time Varona has a visitor to her office, they will know that her work has been recognized in a luxury lifestyle magazine.
In The News helped preserve Niki Varona's tale of service to her community for posterity by immortalizing her article in plaque form. Varona can now proudly display the record of her charitable efforts for all the world to see. Her professionally arranged and engraved plaque will highlight her service to the community and the recognition of the quality of her footwear for all of her office guests to bear witness. With this plaque, Varona's heart and character have been crystallized in her very own attractive keepsake.
May Niki Varona continue to make headlines with her bold vision for her comfort-minded yet highly fashionable footwear.