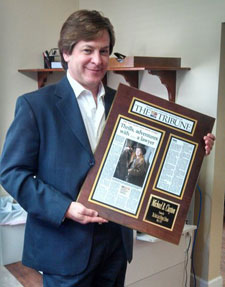 When watching your favorite show, commercial breaks are a given. Unfortunately, most commercials are repetitive, especially when they exhibit attorneys and others representing the law. Fortunately, one local lawyer has broken the mold of law advertising and has become a commercial personality. With commercials that portray his adventurous spirit, Michael B. Clayton brings a new persona to advertisements in law. Rather than reciting practiced lines at a desk, he jumps off cliffs and goes on adventurous crusades in the name of his practice. When a local newspaper featured him in an article, he decided to immortalize the event with a plaque.
Michael B. Clayton and His Plaque
Michael B. Clayton is a local Florida lawyer known for his adventurous personality which shines through his advertisements. Florida local paper The Tribune published a piece about him in May this year, noting his adventurous spirit as a man of the balanced scales. His most recent commercial is described as included Mayan ruins, a cliff, a speedboat, and parachuting, as well as skydiving.
Clayton has the imagination of a fantasy writer and the commercial to prove it. The advertisement features a lawyer doing what many lawyers do not portray themselves doing. The commercial is only a minute long, but begins with Clayton, dressed as Indiana Jones, walking down the stone steps of a Mayan temple, running through a forest, climbing up a rock, and even diving off of a cliff. A scene with a speedboat ensues, followed by a helicopter and skydiving. Landing in his car, he is driven away to his law firm. With the familiar yellow and orange font of adventure and brave music, his commercial does what it was meant to do: capture audience attention and focusing it on Clayton's style. His marketing tactic was to engage customers and clients, and that is exactly what he did. The commercial echoes his adventurous personality and highlights his exciting work ethic. By identifying with a pop icon that stood for just and ethical exploration and archaeological excavation, Clayton portrays to his audience that he is not only just and ethical, but he can excavate through your case. With a creative mind like that, he portrays that as a lawyer, he can do anything.
His advertisements prove that he is a lawyer who thinks outside of the box. This gains the trust of his customers and clients and sets him apart from the rest in the field of law.
His sense of adventure and persistence has always existed, even from childhood. Thinking big with dreams of law school, Clayton worked hard and got into the school of his dreams. After a successful educational career, he launched his professional career. That same sense of adventure and persistence that helped him through his education are the same qualities that help him through his work with the law. Those qualities are a part of his personality and are thus a part of his practice.
When The Tribune published this article, Clayton knew what to do next. He immortalized the piece as a plaque. By transforming his online article into a plaque, he has not only a stylish decoration to hang up in his workplace, but also a permanent reminder of his accomplishments that set him apart in his field.
For those who see the plaque, they can read the article and find out more about him. They may check out the commercials that the article talks about and may thus be drawn to his business. This generates more attention to his business, thus acting as a form of marketing from within the firm itself. He can hang the plaque anywhere in his business or workspace and always have a reminder of his accomplishment.
Any time your achievement, accomplishment, or authorship gets published in a newspaper, magazine, or blog, it can be turned into a plaque that can benefit you and your business. Bring your article or feature one step further with a plaque, which upgrades your publicity and reputation. There are no downsides to hanging the stylish plaque of your achievement on a display in your establishment or workplace. For Michael B. Clayton, his article distinguished him from other lawyers and showcased a fresh outlook of advertisement in law, and In the News was happy to provide the plaque. The plaque furthered the dimension of advertisement by immortalizing the article. Clayton can hang it anywhere, turning any wall into both an achievement as well as an advertisement. A plaque can do the same for you!