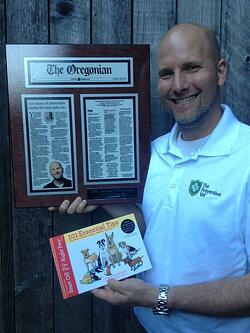 When an individual finds a passion in anything, they must pursue it. Passion brings meaning and purpose to the lives of many people. When the spark of imagination and the depth of passion blend together, one person can make the world a little bit better. In the case of Dr. Jason Nicholas, he found his passion in animals, and used his passion to make the world a better and more informed place. Through his experience in general and emergency animal care, he has become all too familiar with the scene of a heartbroken family as their pet suffers from a condition that could have been avoided. He wanted to spread the knowledge of preventive veterinary medicine to families at home, before the accidents happened. He gathered together his knowledge and wrote "101 Essential Tips You Need to Raise a Happy, Healthy, Safe Dog," which educates the pet owners with advice on a healthier environment for the pet. After the book was released, Oregonian featured him in an article, and In the News was more than happy to create a custom plaque for him to display proudly. His story and his plaque deserve to be remembered, and to help families and pet owners across the country.
About Dr. Jason Nicholas
Nicholas, at the age of forty, is also known as "The Preventive Vet." As his name implies, he has enough experience with animals to teach others how to take preventive measures in their lifestyle to ensure a healthy life for their beloved pets. The past two years have been spent teaching pet owners about preventive measures through social media outlets as well as in-home pet-proofing consultations for as low as $175 per meeting. His experiences and knowledge in potential animal risk factors inspired him to write his book for dog lovers. He will be releasing a version for cat people later this year.
In the one hundred and one tips, Nicholas includes the tips that handle the most common issues that could harm a pet. After noticing that most of the common issues were also the least-known, Nicholas realized that his book could save the lives of many animals and bring stability to many families. The most common issues with dog owners are digestion upset, traumas, and poisonings. The book consists of fifty-six pages as well as Quick Response Codes for the owner to learn more information about any given topic.
Nicholas is an advocator in pet-proofing the home before adding a pet to the family. This book helps make a home safer and more comfortable for both the family and the pet. The tips, coming from an experienced veterinarian, present a reliable source of reference. He thus published his book as an alternative to the internet, which is not always accurate and could lead to tragedy, as he has seen from first-hand experience.
The book brings to pet owners a list of foods and miscellaneous items that are toxic to the pet, including grapes, raisins, and ibuprofen, as well as various plants. Some of the tips include keeping trash cans hidden or out of reach, and the proper way and safest time to exercise your dog.
The article also mentions his website, The Preventive Vet, from which a copy of his book can be purchased.