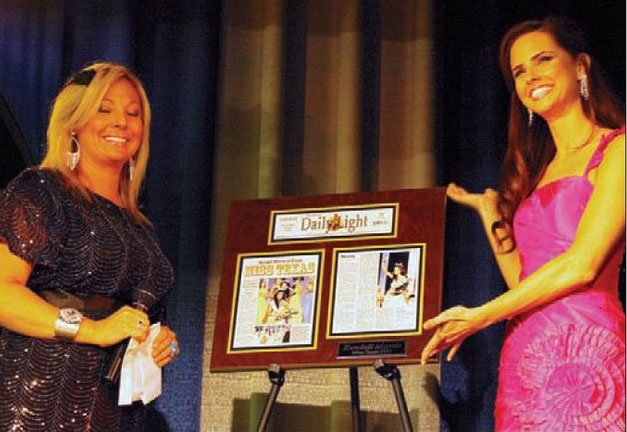 Kendall Morris is the winner of the 2011 Miss Texas beauty pageant and was a top 10 contender for the Miss America 2012 pageant. A student of the Texas Christian University, Morris is a journalism major with a focus in broadcast journalism. As reported by the WaxahachieTX.com website, miss Morris hopes "to be a TV anchor or broadcast reporter" once she finishes her college degree.
After being crowned Miss Texas in July of 2011 Miss Morris went on to become the subject of headlines for many news organizations based in Texas as a regular participant in charity events. An accomplished pianist, Miss Morris uses her talents in charity events and benefits for organizations such as the Children's Miracle Network, the Texas Cares for Children school program, and the Leukemia and Lymphoma Society, among others. Miss Morris also participates in events to raise safety awareness at local schools.
Before going off to participate in the Miss America beauty pageant, Miss Morris devoted time from her preparation schedule to be part of the "Teens Drive Smart Road Show Rally" for Maypearl High School. During the event, Bridgestone Americas, inc. granted the school a $5,000 grant for to be used in driver safety programs designed to educate teens in the basics of defensive driving. MHS students entered their school in a contest to win the Bridgestone grant money in response to a rash of accidents, some fatal, that involved MHS students. Morris took the time to help inspire the teens of MHS and even posed for photos with students after the event was concluded.
Miss Morris's dedication and tireless efforts to support her local community and charity programs has been repeatedly covered by Texas news organizations such as "The Daily Light" and "Ennis Daily News." By involving herself in efforts to improve the quality of life for others and raising awareness for issues that affect the youth in her community, miss Morris has shown that she truly deserves her title of Miss Texas 2011 not just for her physical beauty, but for the beauty of her spirit as well.
During a benefit event at the Texas Theater in Waxahachie, Morris performed several piano pieces for her audience, including: "The Battle Hymn of the Republic," "Toccata," and "New World Symphony." She performed "The Battle Hymn of the Republic" to express her patriotic spirit and faith in God's truth. "Toccata" was played because Morris enjoys the melodies contained in that piece. Morris played "New World Symphony" as a callback to when she was crowned Miss Texas because it was the song she played in that competition.
Morris's goal during her performance was to help the Children's Miracle Network raise $75,000 to support children's hospitals across the country and raise awareness.
Before the Miss Texas winner began her performance, however, her family presented her with a custom plaque commemorating her victory. Miss Morris's cousin, Bekah Roebuck, gave the Miss Texas pageant winner a custom crafted and engraved plaque that proudly displayed the "Daily Light" article detailing the story of Morris's victory in the 2011 Miss Texas competition. Miss Morris now has a permanent reminder of her newsworthy accomplishment in overcoming contenders from all over her state to become Miss Texas 2011.
The "In The News" plaque that Miss Morris's family gave to her is the perfect way to celebrate and immortalize the newsworthy achievements of the promising young Miss Texas pageant winner. Every plaque from In The News is professionally tailored to best present the personal story of the recipient. Even after Morris has passed her Miss Texas crown onto the next winner, she will still have this keepsake to remember her time as the champion and representative of her state.
Such plaques make for excellent gifts to give a family member or loved one. With an In The News plaque, you can create a keepsake gift that will be cherished forever. They make for welcome trophies to display to friends and family alike, while also possessing the personal touch to show how much you care.
If you need to give a gift for that hard to shop for friend or relative, you can demonstrate your creativity and attentiveness through a custom-crafted original plaque from In The News. Create a pitch-perfect one-of-a-kind collectible for that special person in your life today.
After her top 10 placement in the Miss America beauty pageant, Morris has chosen to, as was stated in a WaxahachieTX.com article, make 2012 her "last year to compete in any pageant" and instead "focus on her studies at TCU and graduate with a bachelor's degree in journalism." Hopefully, Miss Morris will continue to be an active presence in her community after she receives her journalism degree and continue to be in the news as both a maker and reporter of headlines.