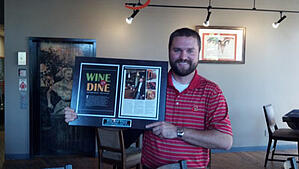 They may be called Old 502 Winery, but there's nothing "old" or traditional about their vision. After operating as River Bend Winery for 10 years, owner John Neace knew something had to change. As the years went by, founder of Louisville-based insurance brokerage Neace Lukens, John Neace managed River Bend more like a hobby and not a business. In 2013, the winery was revamped with a new name, Old 502 Winery, and a stamped with a new, untraditional vision.
A simple visit to their website, www.old502.com, shows the edginess of this revamped business. "When we're not crushing grapes, we're breaking rules," the site's headline reads. Old 502 Winery is Louisville's only urban winery, making wines directly in downtown Louisville. Challenging winemaking convention, the winery prides itself on eclectic and funky flavors, another rebranding goal brought on by the company's new addition – Jon Ryan Neace.
Now the president and minority co-owner of the parent company In Town Winery LLC, Jon Ryan Neace was brought on by his father to re-launch the winery and revamp a business that will make Louisville proud. Kentucky might be known for bluegrass music, the Kentucky Derby, and bourbon, but a wine culture is beginning to grow. Reported in an article in Kentucky Monthly titled "Wine & Dine," at least 75 percent of the fruit used must be grown in state in order to be called a Kentucky wine. While all Old 502 wines are created in Louisville, now three of Old 502's wines are considered true Kentucky wines, with more to come in the future.
Winemaker and general manager, Logan Leet, was brought onto the team as part of the revamping processing. Crafting edgy and unique wines, Leet hopes to purchase 100 percent in-state fruit, according to the Kentucky Monthly article. The winery currently buys grapes from Anderson, Washington, and Fayette counties as well as Georgetown, KY. Old 502's funky flavors are showcased with modern labels and quirky titles. Here are a few highlights from the winery's website:
"Pronounced Taste, Reese Ling" – A semi sweet Riesling with hints of melon and apricot.
"Sounds Like Shar-Duh-Nay, Tastes Like Wine" – A crisp, un-oaked Chardonnay.
"Kentucky, A Hit With The Misses, Lady" – A sweet white made with only Kentucky-grown fruit.
"Bourbon Barrel Red" – A semi-dry red, shortly-aged in Bourbon barrels.
Jon Ryan Neace considers the current team a "cohesive unit" and is ready to tackle business goals. Another goal for the winery rebranding is to turn the location into a destination, welcoming reservations for weddings, business luncheons, holiday parties, and other events to make complete use of their facility. According to the Kentucky Monthly article, marketing agency Red7e restructured the winery's facility use to include rentals on both the first and second floor of their downtown location.
The winery's exposed brick walls and original oak floors creates a modern, edgy backdrop for special events and parties. The winery can accommodate up to 300 people, provide full-service catering and full bar, and assist with event planning services. By the end of 2013, Old 502 is estimating 150 to have taken place at their facility, which is a 50 percent increase from last year. Plus, the bonus of the venue being a winery is they offer wine tastings and tours.
The Jon Ryan Neace has big goals for the company's future, including increasing revenue, wine sales, and distribution. As River Bend, wine sales were approximately 60 cases per month. As Old 502, sales have been 125 per month, with the goal set to 400 per month, as Jon Ryan Neace reported to Kentucky Monthly. Distribution increased from 12 retailers last year as River Bend, to 70 under Old 502. Kentucky and Southern Indiana retailers include Kroger, Westport Whiskey & Wine, Liquor Barn, Cox's Smokers Outlet, Party Mart, and Buckhead Mountain Grill. Once these goals are reached, the production facility plans on beginning discussion of expanding to a 40,000 square-foot warehouse that is owned by John Neace and Jon Ryan Neace.
In The News was honored to celebrate the revamping and success of Old 502 Winery by creating a plaque for them to proudly display! Old 502 decided on commemorating this year's transformation and success with a customized plaque of The Kentucky Monthly article highlighting the company's winning strategy. The article discussed thoughts behind rebranding and milestones the company reached. The fully customized plaque created for Old 502 includes publication name, feature story and beautiful photos, and a personalized plaque.
We were ecstatic to create this sharp-looking plaque for Old 502 Winery. And it's our hope, at In The News, that Old 502 continues to create flavors truly unique to Louisville. We wish them much success. May they continue to reach future career goals and be "In The News" next year for even greater achievements!