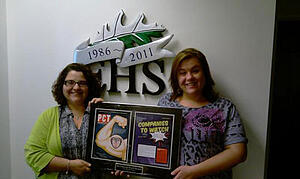 Environmental Health Services is a pest control company based in Norwood, Massachusetts that services the entirety of Rhode Island and Massachusetts. As a pest control company, EHS serves:
Private residences
Commercial/office buildings
Restaurants/food service companies
Condominiums and Apartments
Healthcare facilities and hospitals
Hotels, Motels, and Inns
From North Adams to Orleans, EHS serves the entire breadth of Massachusetts and Rhode Island. EHS' Angie's List 2011 "Super Service" award-winning five step program is designed to eliminate pest problems without introducing unnecessary chemicals into the environment by:
Inspecting the property
Removing pests' food sources and shelters
Creating a customized plan for dealing with areas that are typically vulnerable to infestation
Using pest control materials that are safer for both humans and the environment
Monitoring the property to ensure that pests do not return
EHS has been so successful in their ability to provide ecologically-friendly service that their 2011 Angie's list award is the fifteenth time that they have won an award in that category. Each year, less than 5% of thousands of businesses considered for the Angie's list super service award are able to earn this particular distinction.
What makes EHS' service so super? Part of that may be their dedication to providing environmentally safe pest control solutions, but that is only a part of it. One thing that helps to set EHS apart from their competition is their dedication to people. Not just the typical everyday "we appreciate our customers" spiel that gets half-heartedly espoused by every other customer-service oriented business across America, but in their dedication to making sure the people who work for their company are, as EHS states on their webpage, "hired not just for their exceptional technical abilities, but for their compassion and outgoing personalities as well… our office personnel, management team, and outside sales and technical staff genuinely enjoy their work. And this translates to better relationships with our clients and a service commitment not found elsewhere."
Managers and employees such as Vice President Sabrina Key and Customer Care Specialist Melissa Charnitsky help to create a positive environment for employee/customer interaction and help to grow EHS' business.
By making sure that their workers are able to engage with their customers on a personal level, EHS ensures that the pest control experience that they provide is a positive one that consumers look forward to rather than dread.
In addition to their already low-impact, environment-friendly traditional pest control service, EHS also offers an organic pest control treatment that uses botanical products that the U.S. EPA has classified as minimum risk and exempt. As noted on the EHS organic treatment options page, the active ingredients in these organic treatments are "made from essential plant oils like eugenol, clove oil, rosemary oil, and lemongrass. These products are OMRI + NOP certified organic." OMRI is the acronym for the Organic Materials Review Institute, which is an independent nonprofit organization that provides organic certifiers and reviews a company's products against the National Organic Standards in OMRI's approval process. The NOP is the National Organic Program, a branch of the USDA that regulates and enforces the national standards for products to be considered organic.
EHS' dedication to providing environmentally sound pest control solutions to their customers is an admirable goal, and they were recently featured in Pest Control Technology magazine as one of the "Top 25 Companies to Watch in the U.S. and Canada." The article, which presents to the reader a list of companies that have highly successful business strategies, asks each company for a tip on how they have managed to be so successful. For EHS, that tip was "Helping Great Reviews Go Viral," where they state that "one positive comment on Facebook alone resulted in three new customers." By maximizing their advertising potential using positive feedback on sites such as Facebook, EHS is building customer trust and generating new business.
EHS also chose to help maximize their positive press by having In The News preserve the PCT article highlighting them as a top 25 company to watch in their very own engraved plaque. This plaque not only serves as a trophy to commemorate their achievement in making the PCT magazine's list, but also as a real-world reminder of why they made the list.
More than just an anonymous review on Facebook to be buried 500 entries deep in the company's timeline in two months, EHS' In The News plaque can be proudly displayed in their office to inspire employees with the knowledge that their work does matter, and will be recognized by others. Customers who visit the office can see the physical document that marks EHS as a company worthy of recognition by a nation-spanning publication, and know that they can trust EHS to do the job right.
In The News plaques are tasteful, attractive ways of immortalizing your business' achievements. Each professionally engraved and arranged plaque is custom crafted to best present your personal story as told by your favorite publications. Whether you wish to preserve a news article or your own first brochure or other publication, In The News can help you celebrate and preserve your achievements.
We were happy to help Environmental Health Services preserve their article in PCT magazine in their very own custom plaque to celebrate their recognition in the nationally-distributed publication. We hope that EHS continues to be a success in providing the Massachusetts and Rhode Island area with quality pest control with a minimal environmental impact and that they continue to receive national recognition for their efforts.