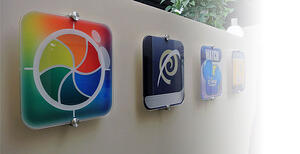 Have you created a mobile app for your store, but just cannot seem to draw users to it? Does
your app lie buried 50 pages deep in every search you run, no matter how specific you make that search?
If you want to get customers to try out your new mobile app for your store to increase customer involvement and attract repeat visits, you may wish to try out one of In The News' acrylic app icons.
That's right, In The News provides more than just attractive framing options for your magazine and news article highlights, we also offer a range of quality custom products to meet your business needs.
With one of these vibrant and colorful acrylic icons hanging on your wall, you gain the opportunity to draw customer attention to your app, which helps to make your app icon recognizable to customers who would otherwise not be able to distinguish it from the thousands of other apps in their mobile device's app store. Brand recognition can often drive sales, as customers are often leery of downloading apps from sources they do not know or trust. By letting customers know that the app icon they are looking at is from you, a business that they know and trust, you can allow customers to feel more comfortable in trusting your app.
Plus, In The News can also add a QR (Quick Response) code to the acrylic app icon that your customers can scan to find your app immediately. This QR code stores the URL information for your app and allows your customers' mobile devices to locate your store page immediately once scanned.
One of the biggest challenges stores have in promoting their apps is that customers often do not know the app exists in the first place. Even when they know about the app, finding that one solitary app amongst the sea of choices online is time-consuming, so most customers do not even bother with the attempt. Having your app's icon and QR code hanging on the wall of your business allows customers the chance to find your app quickly and easily and download it. The more downloads that you can generate for your app, the higher its rank on mobile app stores will rise, making it easier for other potential customers to find your app and generate more downloads.
Each acrylic app icon is made from quarter-inch thick acrylic with your personal icon applied directly to the acrylic. One-inch diameter stainless steel edge grips pop the plaque out from the wall, causing the plaque to cast a shadow that creates a bold three-dimensional image that captures the eye.
The visual attractiveness of these app icons also makes them an ideal way to celebrate your achievement in getting your app onto mobile app stores. Long after your app has been published, you can have this custom keepsake to remember your beloved accomplishments. You made the app, we can add a tangible aspect to it..
Your mobile app is a great way to interface with your customers and generate more interest in your store. Make sure your customers both know your app exists and give them an opportunity to download it with your own In The News acrylic app icon today.
In The News also offers custom wood and acrylic plaques to help you celebrate the accomplishments of you, your friends, family, and co-workers. Give that accomplished individual in your life the gift that will stay with them for years and demonstrate how much you care. Start designing an immortalized gift today!